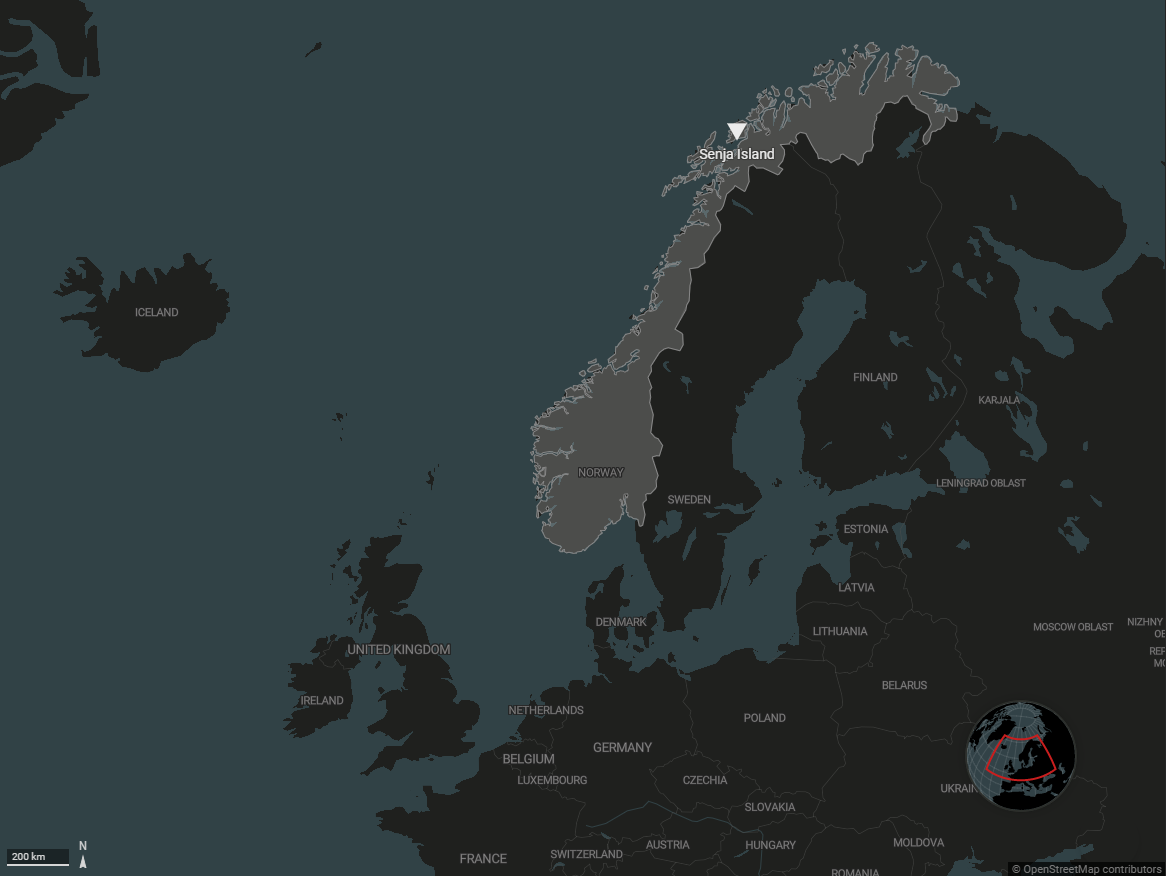 Île de Senja, Norvège. La météo est incertaine, il pleut, il y a du vent, les lumières un peu fades mais ils annoncent de la neige pour les jours à venir. L'occasion pour faire un peu de repérage, après tout, on vient pour du ski de rando ! Le contraste entre sol & touffes d'herbes lessivés par la pluie et les sommets encore enneigés est déjà saisissant. Vivement la vue des fjords depuis les pentes de neige et ces lumières arctiques dont tout le monde cause... Le couvert nuageux hypothèque pour le moment toute chance de voir des aurores boréales.​​​​​​​
Island of Senja, Norway. The weather is uncertain, it's raining, it's windy, the lights are a little dull but weather forecasts announce snow for the days to come. We come for ski touring, we take this free time to make some recon. The contrast between soil & clumps of grass washed away by the rain and the still snow-capped peaks is stunning! Can't wait for the view of the fjords from the snow slopes and those arctic lights everyone talks about... The cloudy cover for the moment prevent us of seeing Northern lights.
La neige est enfin là ! Ski plutôt bon pour cette première sortie de la journée, visibilité perfectible au sommet ! Première vue sur les fjords et lumière arctique assez incroyable...
The snow is finally here! Skiing not so bad for this first outing of the day, visibility could be improved at the top! Incredible view of the fjords and arctic light...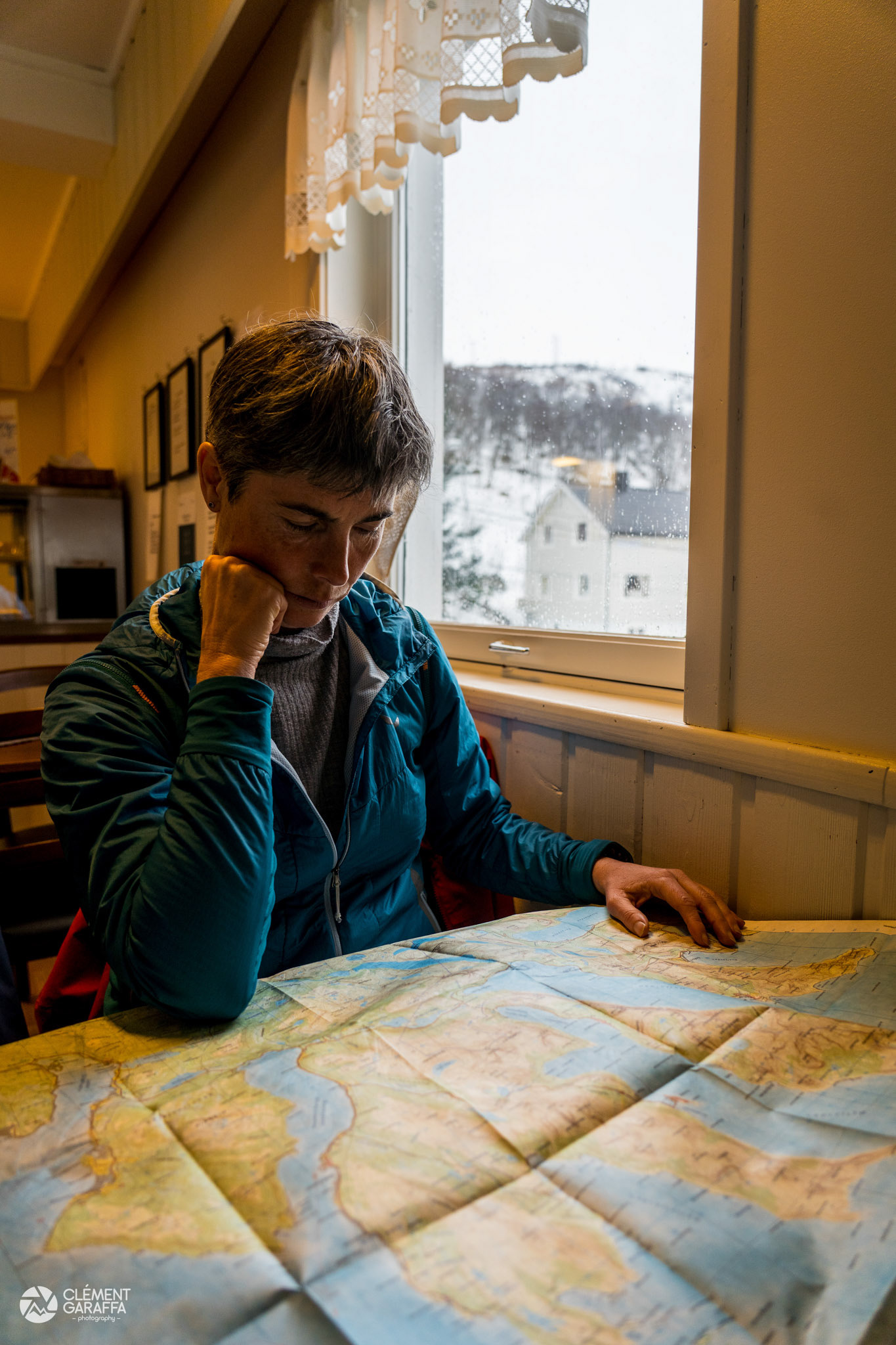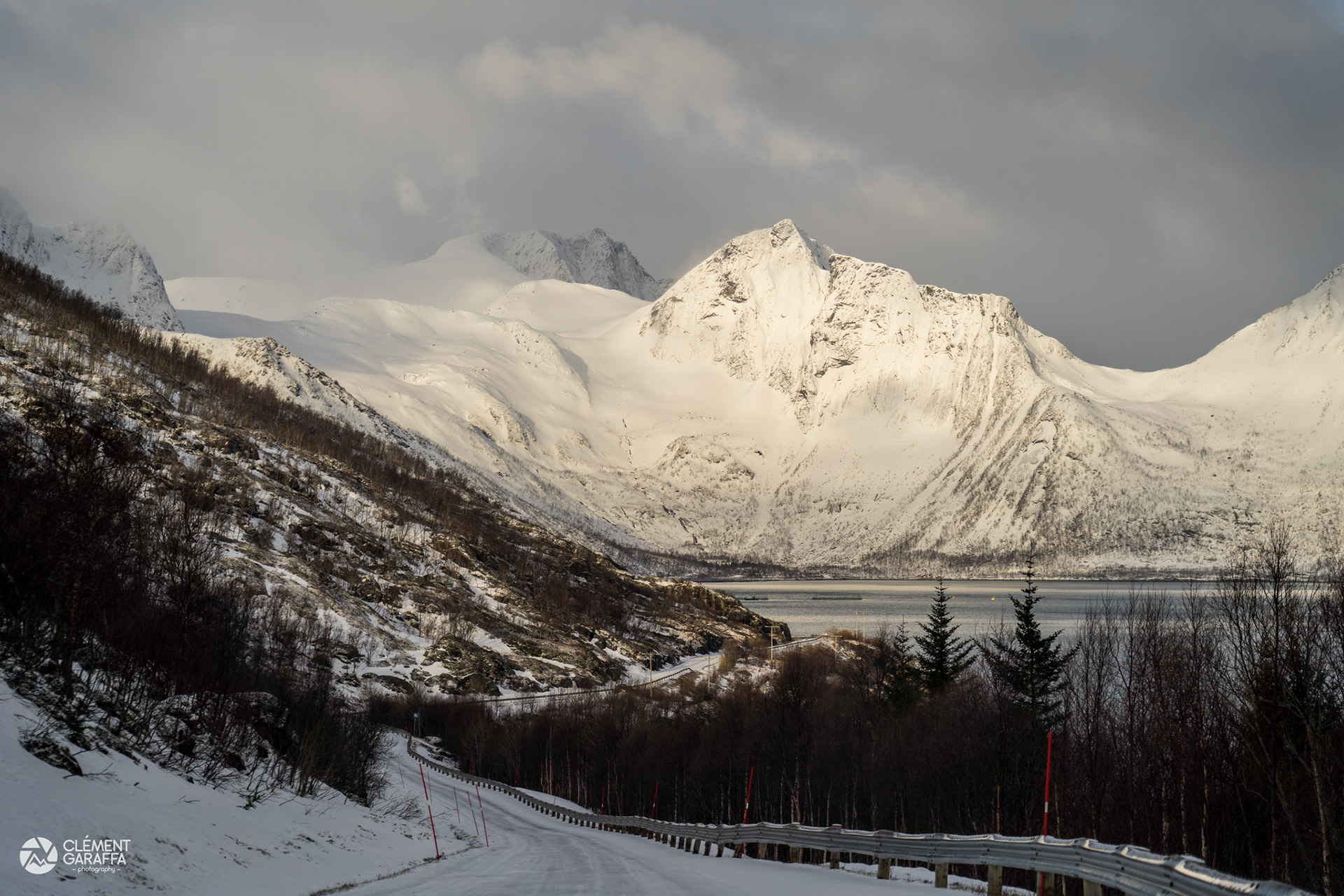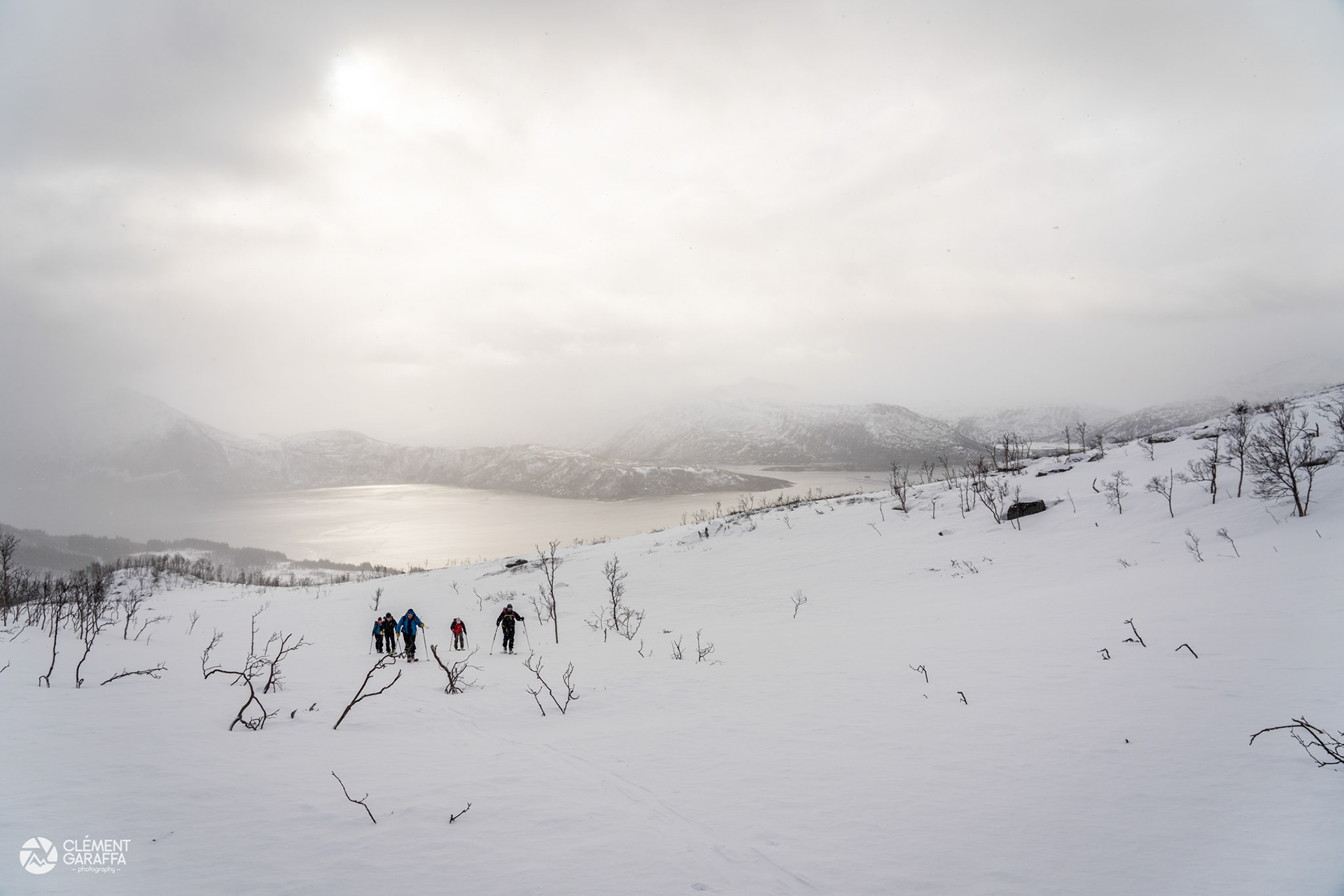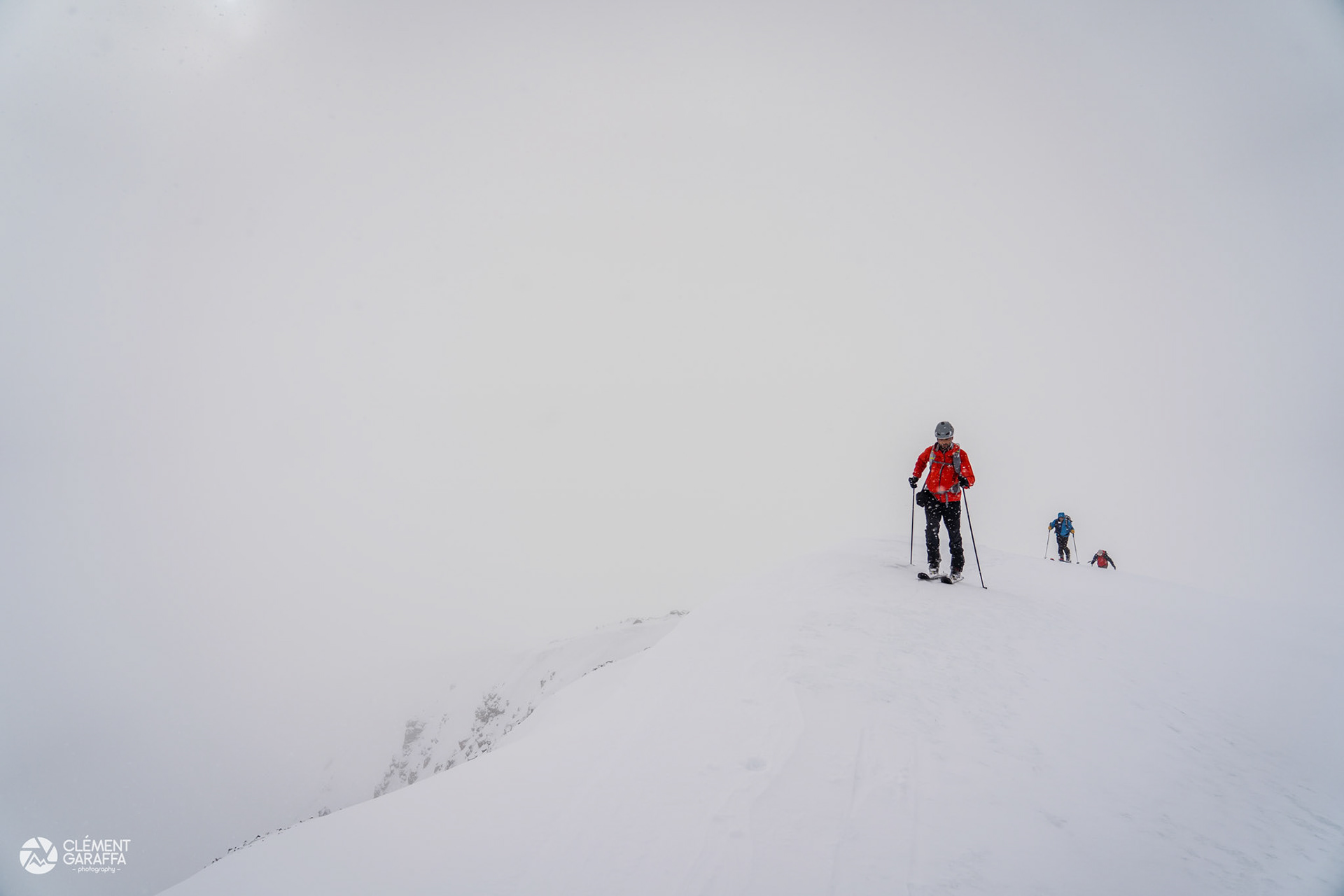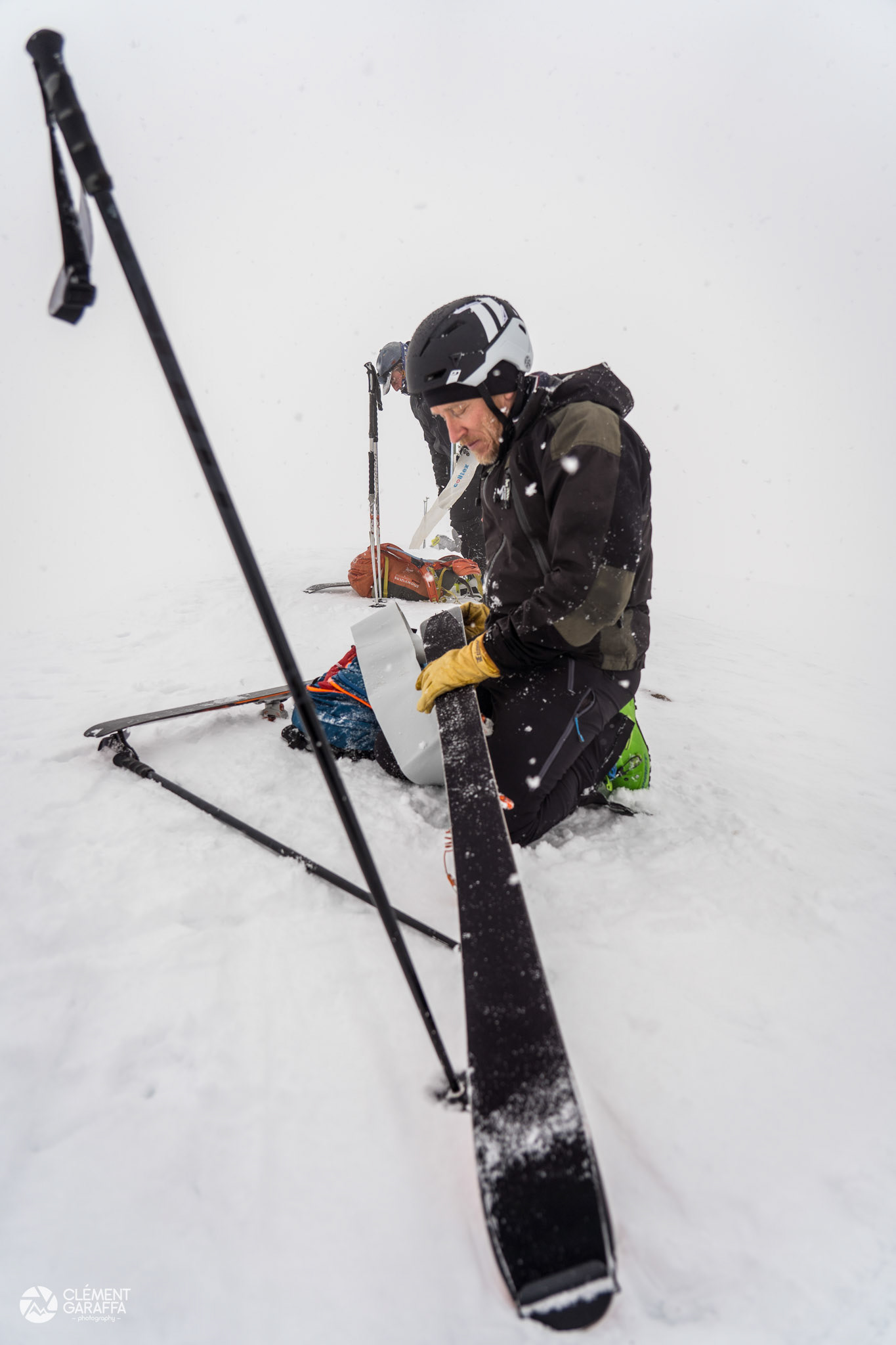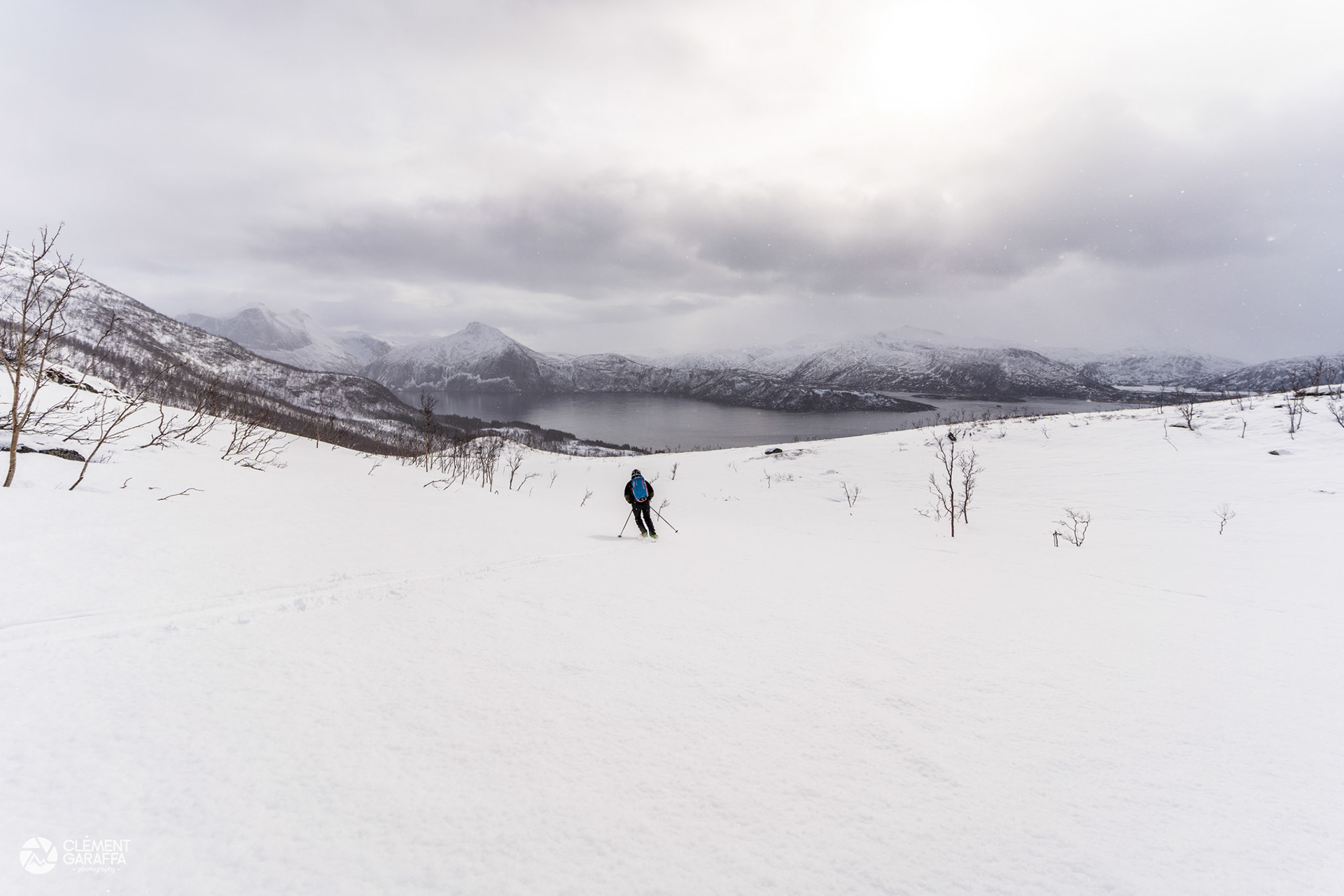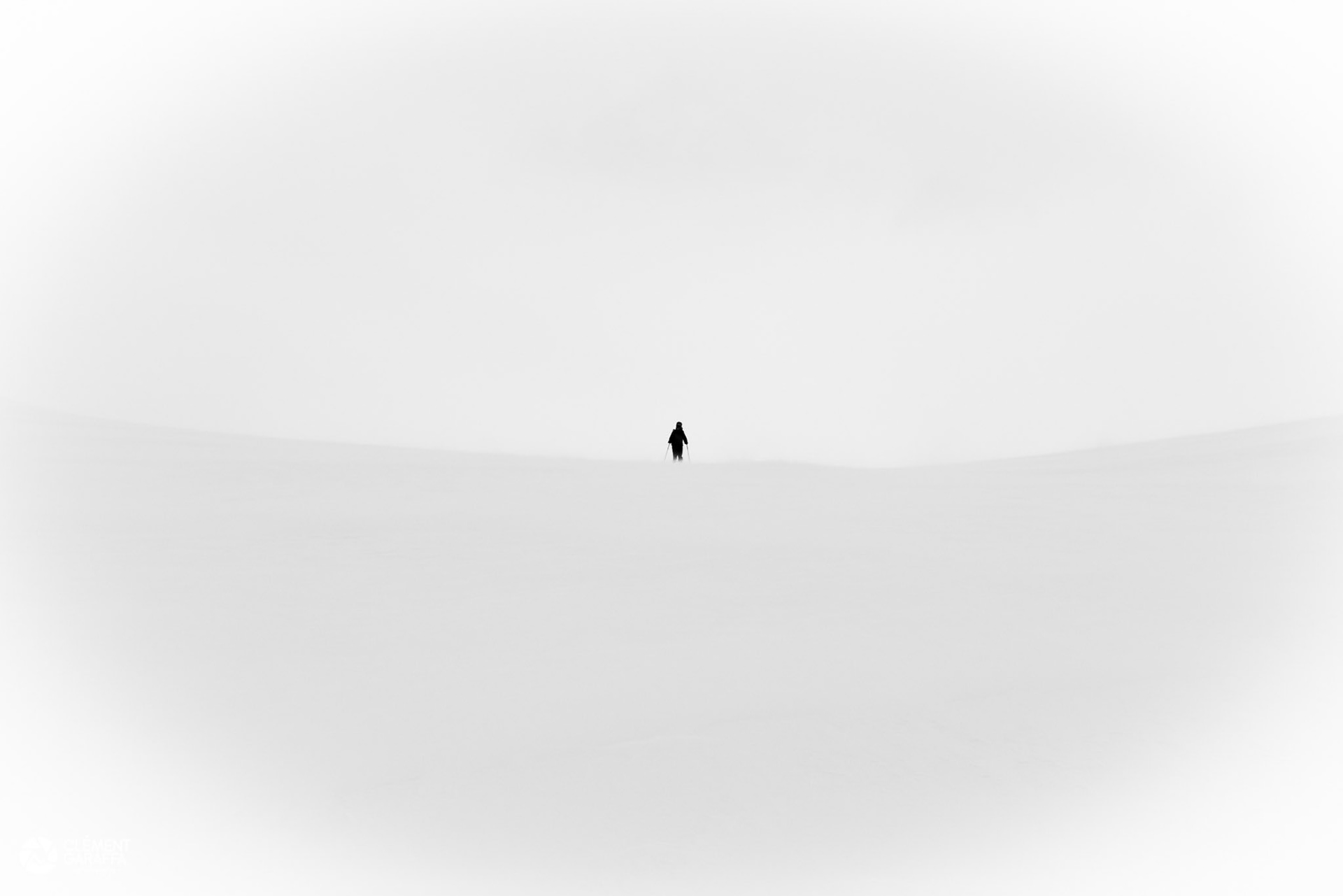 Épaule du Ramfloy | Ramfloy shoulder
Deuxième sortie de la journée, on partira rive gauche du torrent du Storeval, mais impossible de le traverser pour monter en direction du Snaufjellet, on reviendra. 
Plan B : épaule du Ramfloy, faite 2 fois tellement c'était bon !
Second outing of the day, we will leave the left bank of the Storeval torrent, 
but can't cross it to climb towards Snaufjellet.
Plan B: Ramfloy shoulder, skied twice, it was so good!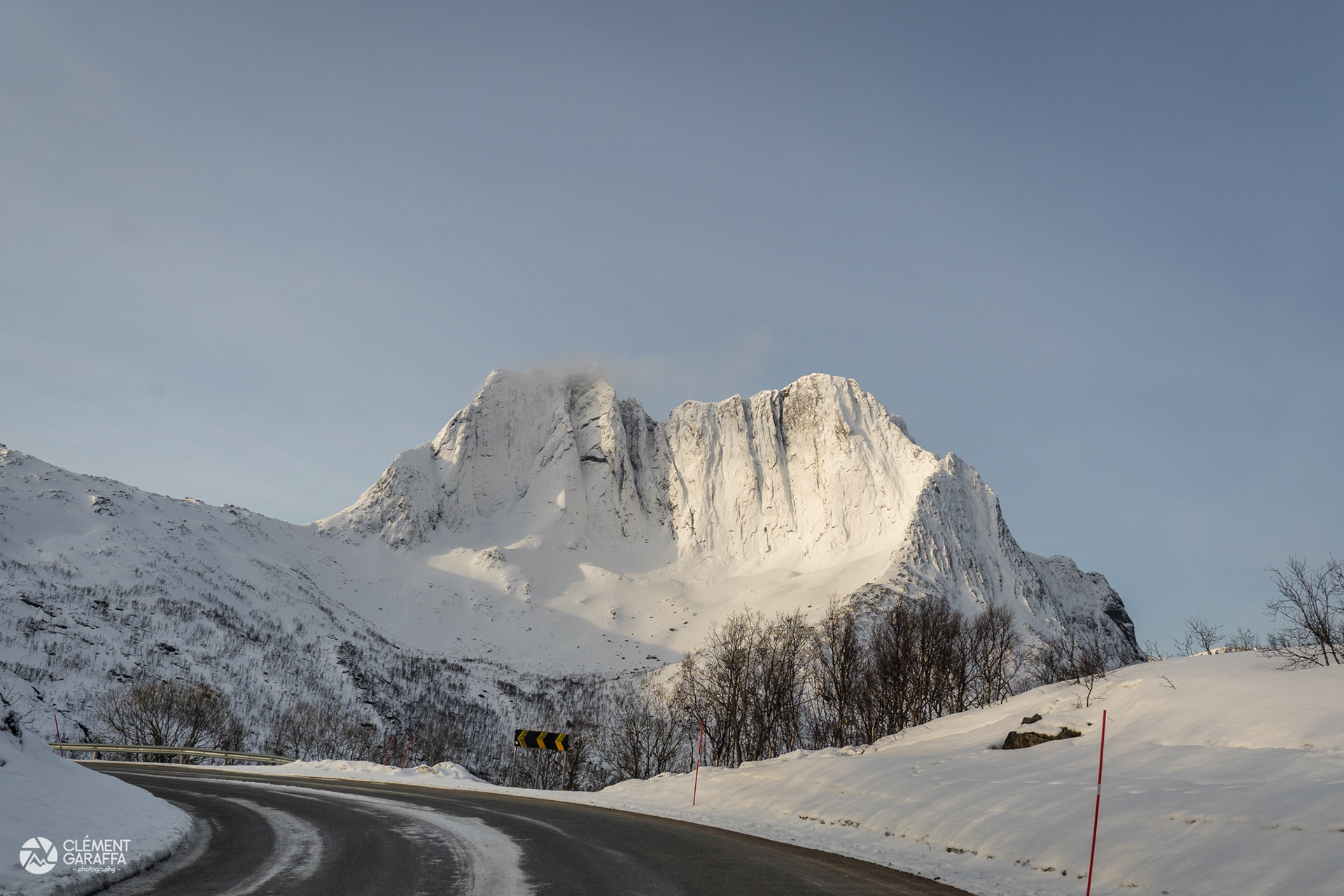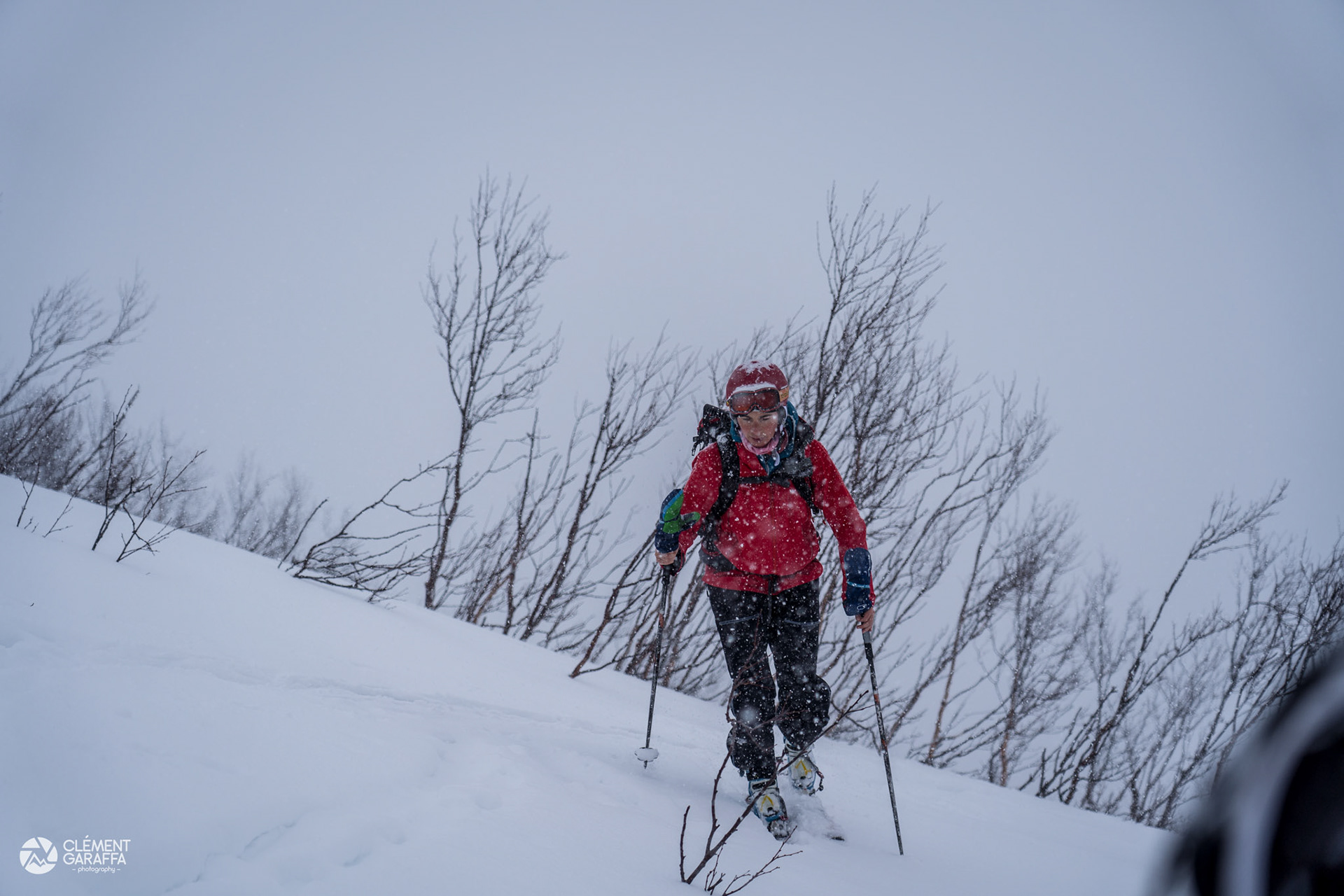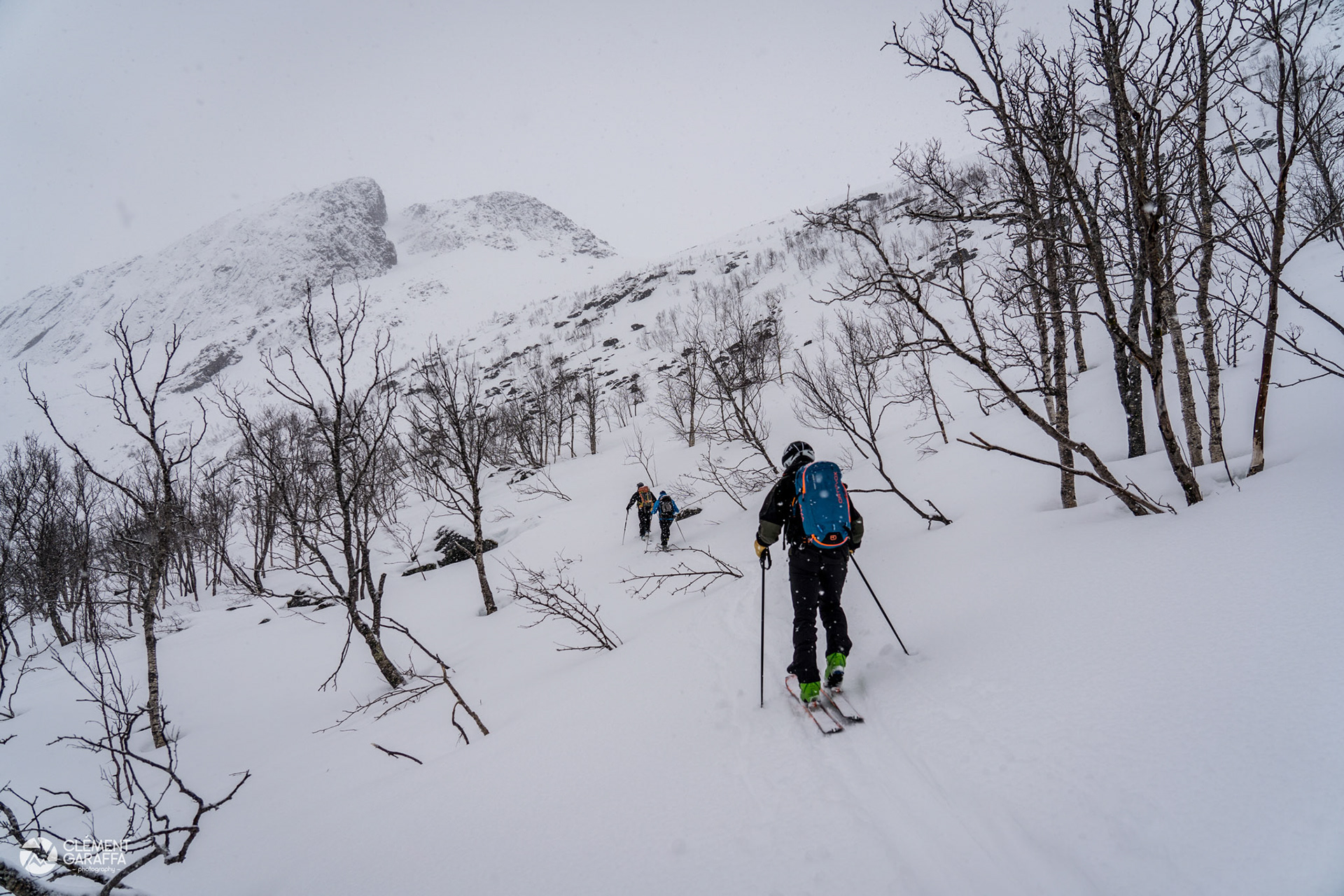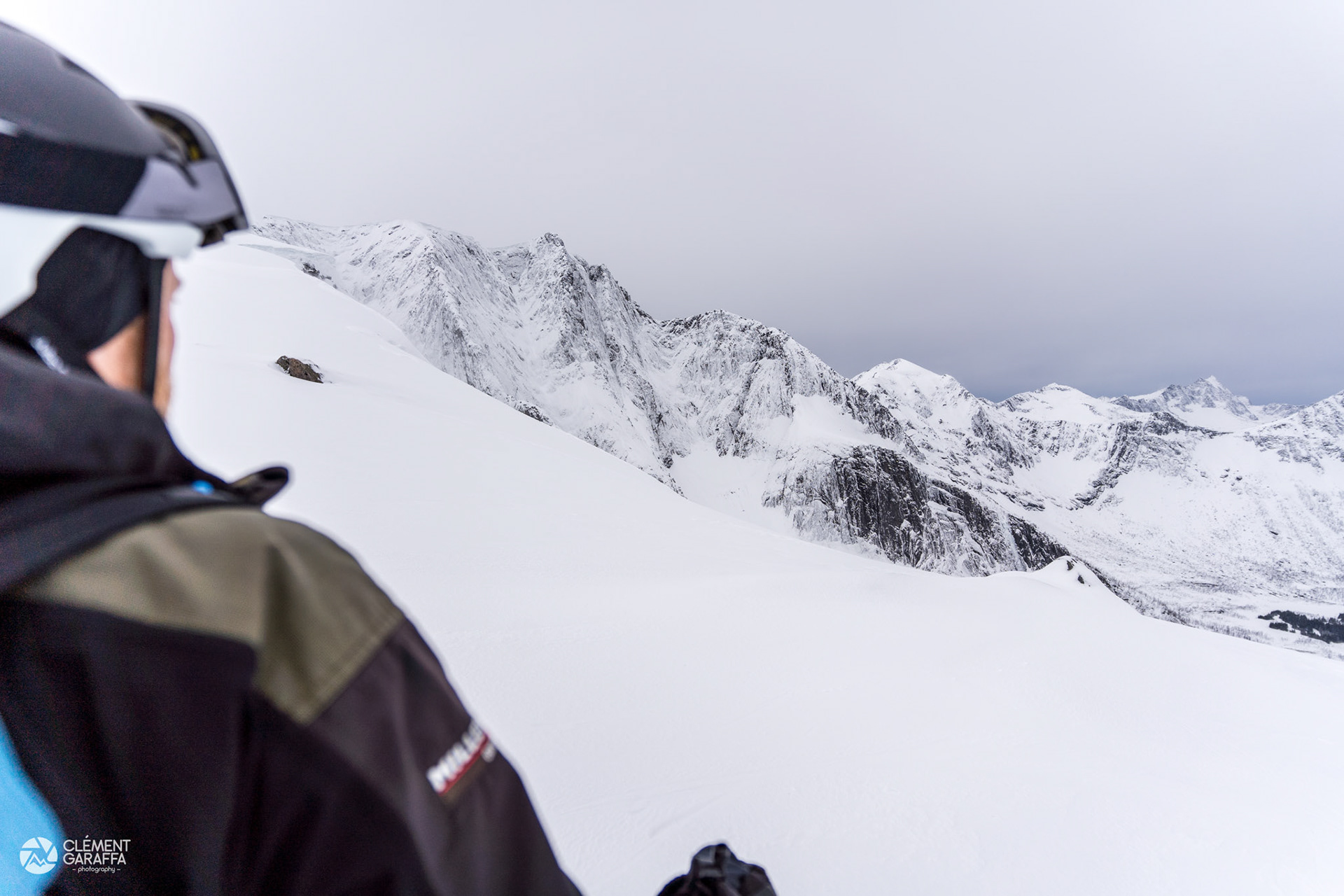 Store Hesten (874m) depuis Svartola (bord de fjord), descente très bonne, puis traversée du lac Lille Hestvatnet en direction du Burstinden (753m) mais la face donne pas trop envie, un peu décapée par zone par le vent.
On se dirige alors vers le Roalden (862m). Avec des premiers signes de plaque en formation et le vent qui forcit, nous n'irons pas au sommet. Descente tout poudre jusqu'au lac Burstindvatnet. Un dernier repeautage nous permet de remonter au col et permet de basculer côté Senjahopen par le vallon du Hemmingskolten.
Une superbe traversée avec deux très bons extras !
Store Hesten (874m) from Svartola (side of the fjord), very good descent, then crossing of Lille Hestvatnet lake towards Burstinden (753m) but the face is not very appealing, a little bit stripped in some areas by the wind.
We then head towards the Roalden (862m). With the first signs of slab forming and the wind picking up, we won't be going to the summit! All-powder descent to Lake Burstindvatnet. A final repeautage allows us to go up to the pass and allows us to switch to the Senjahopen side via the Hemmingskolten valley.
A superb crossing with two very good extras!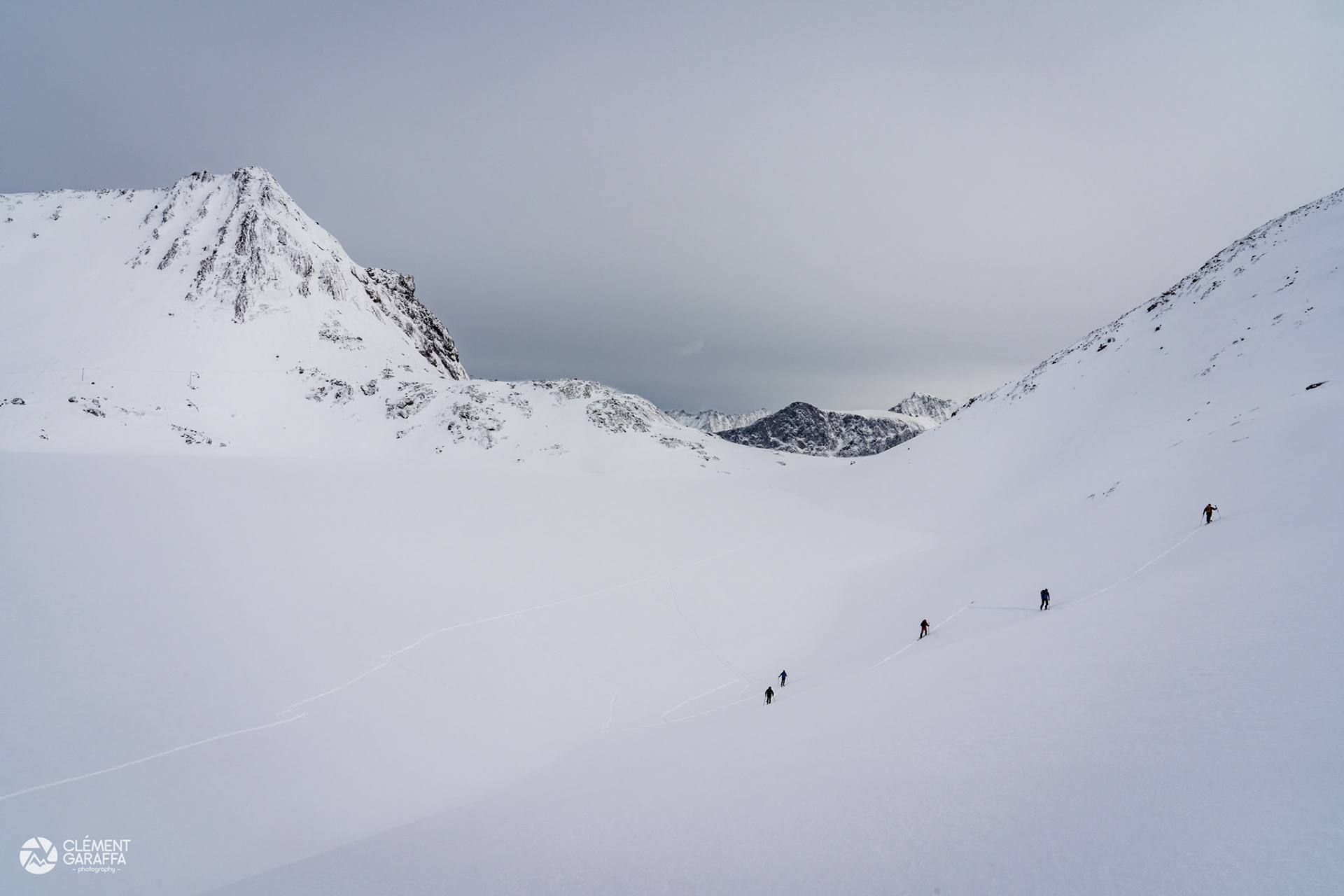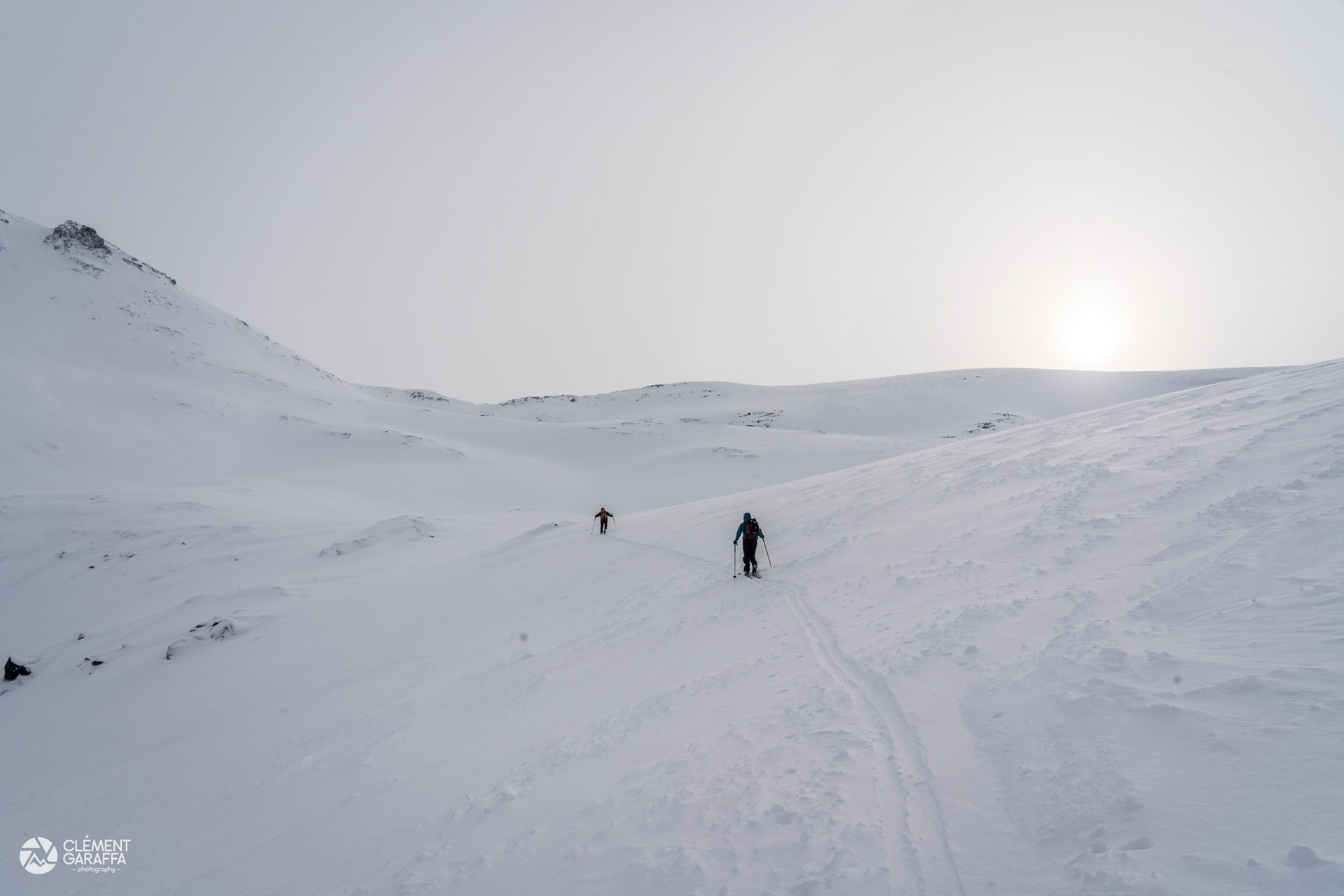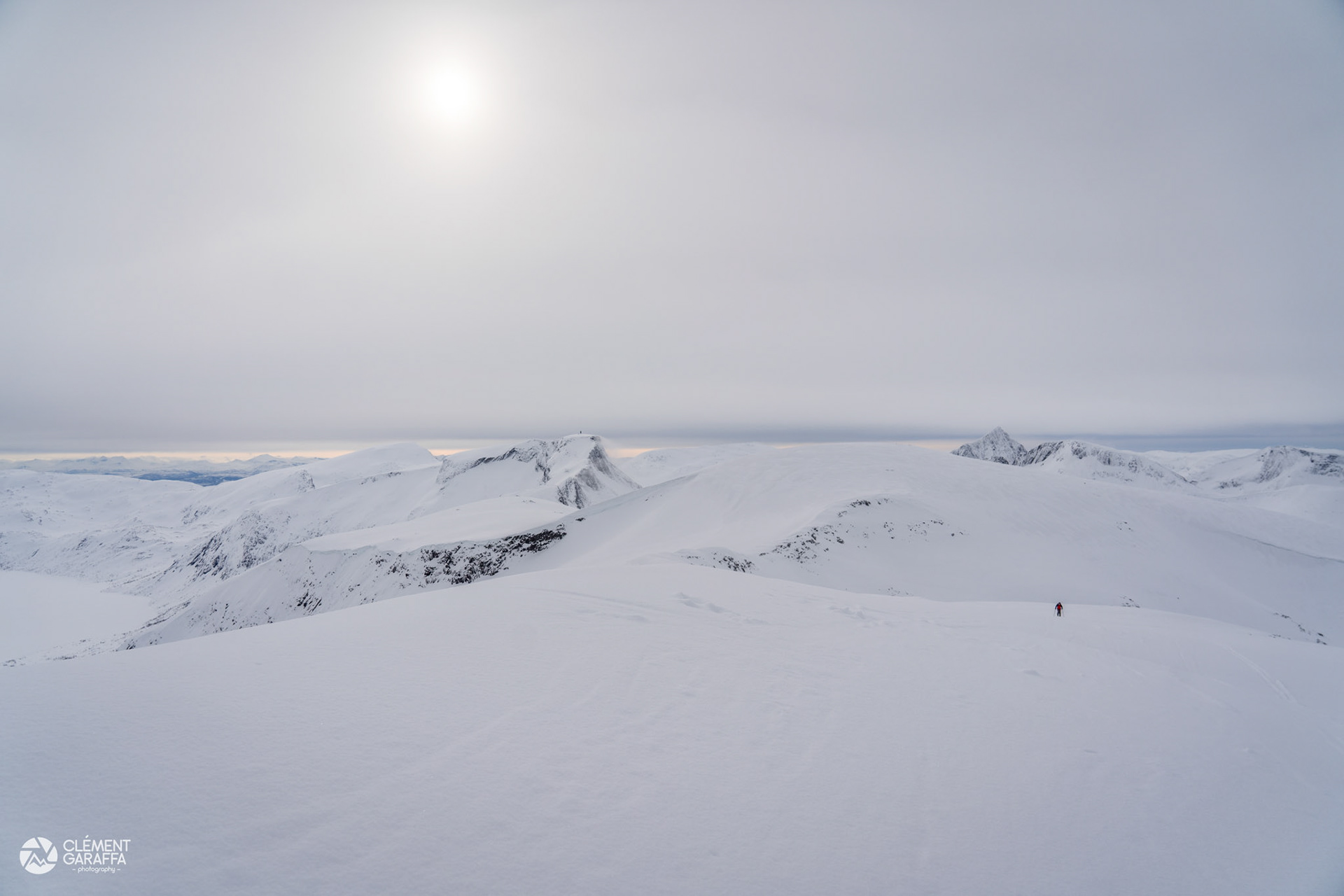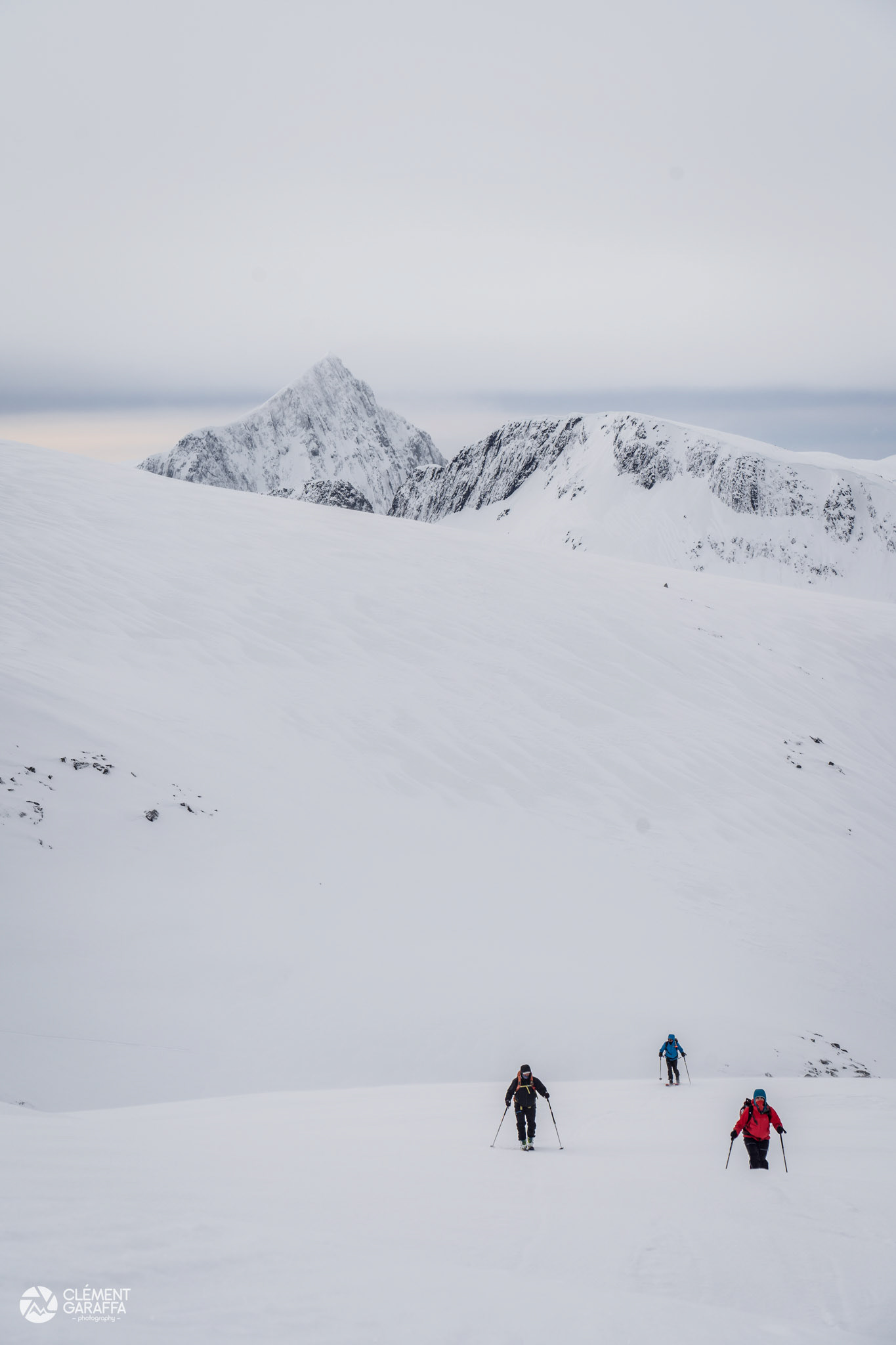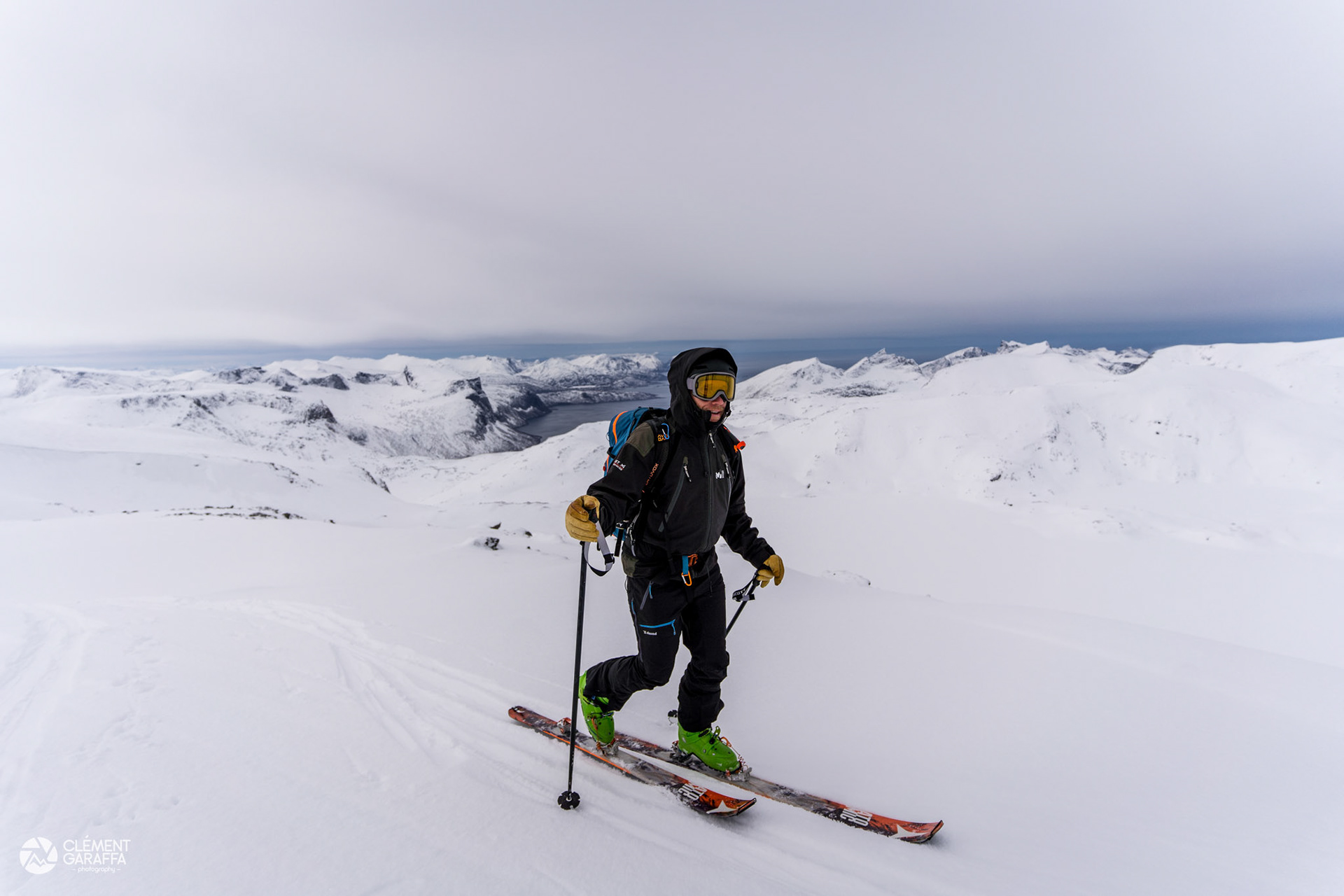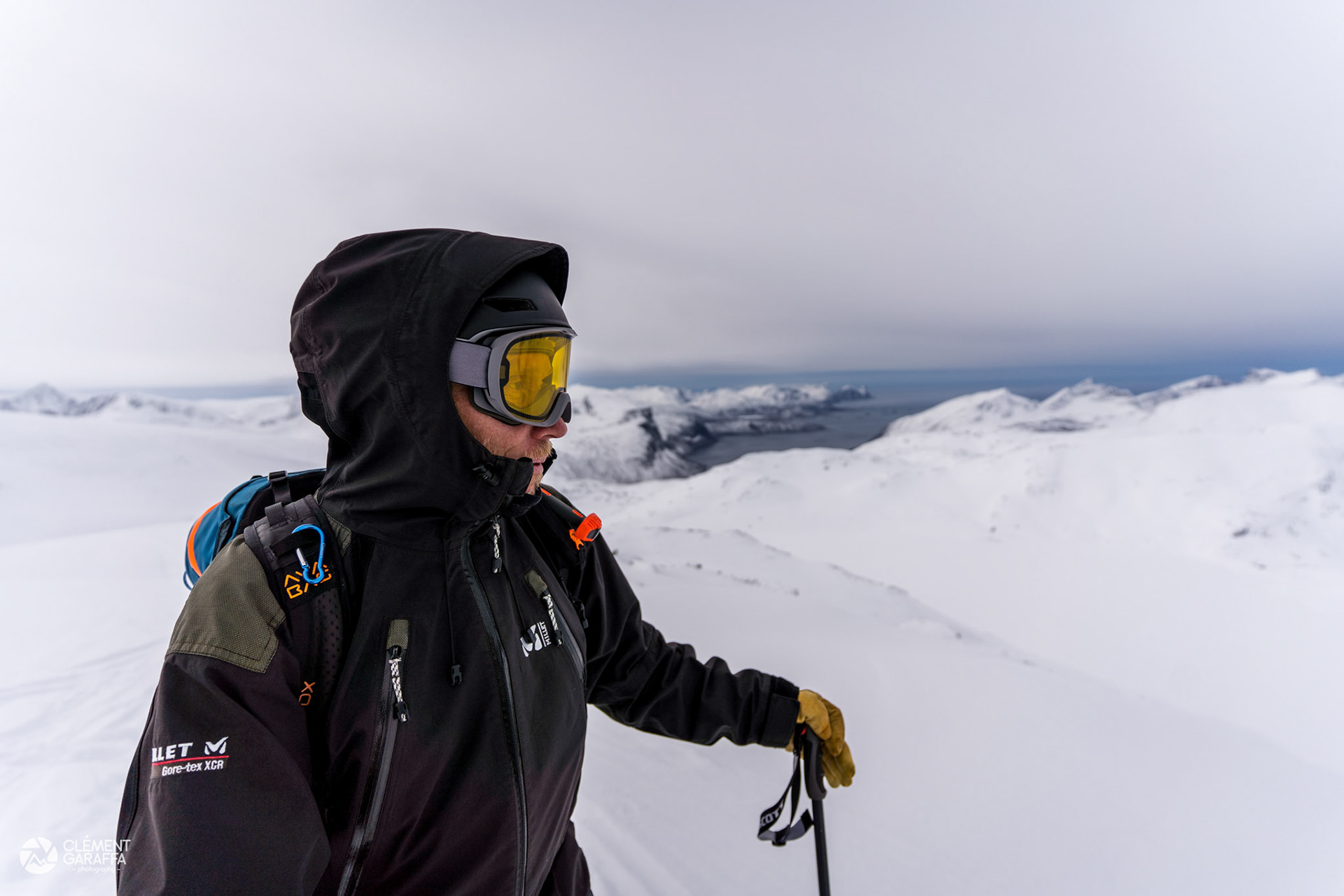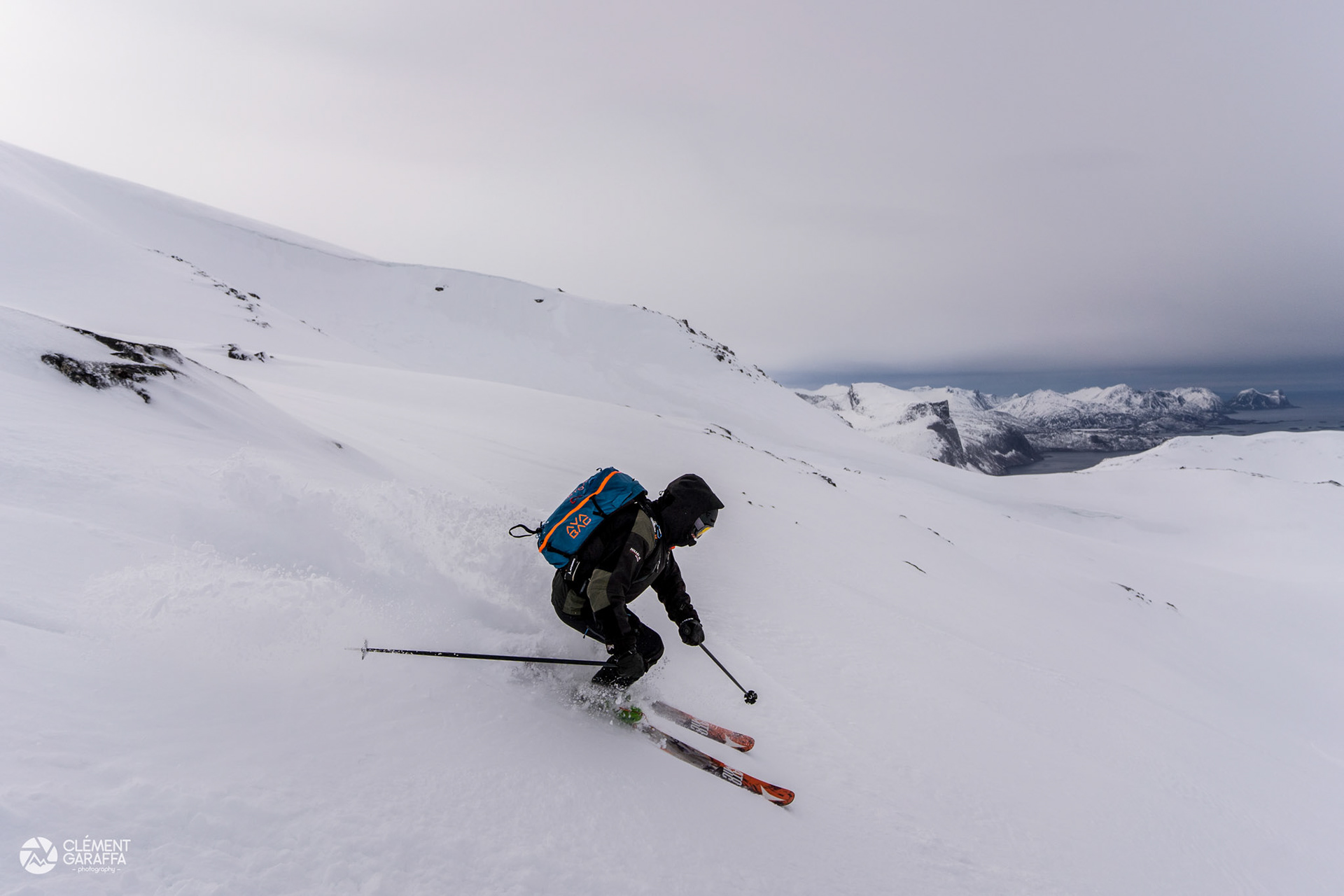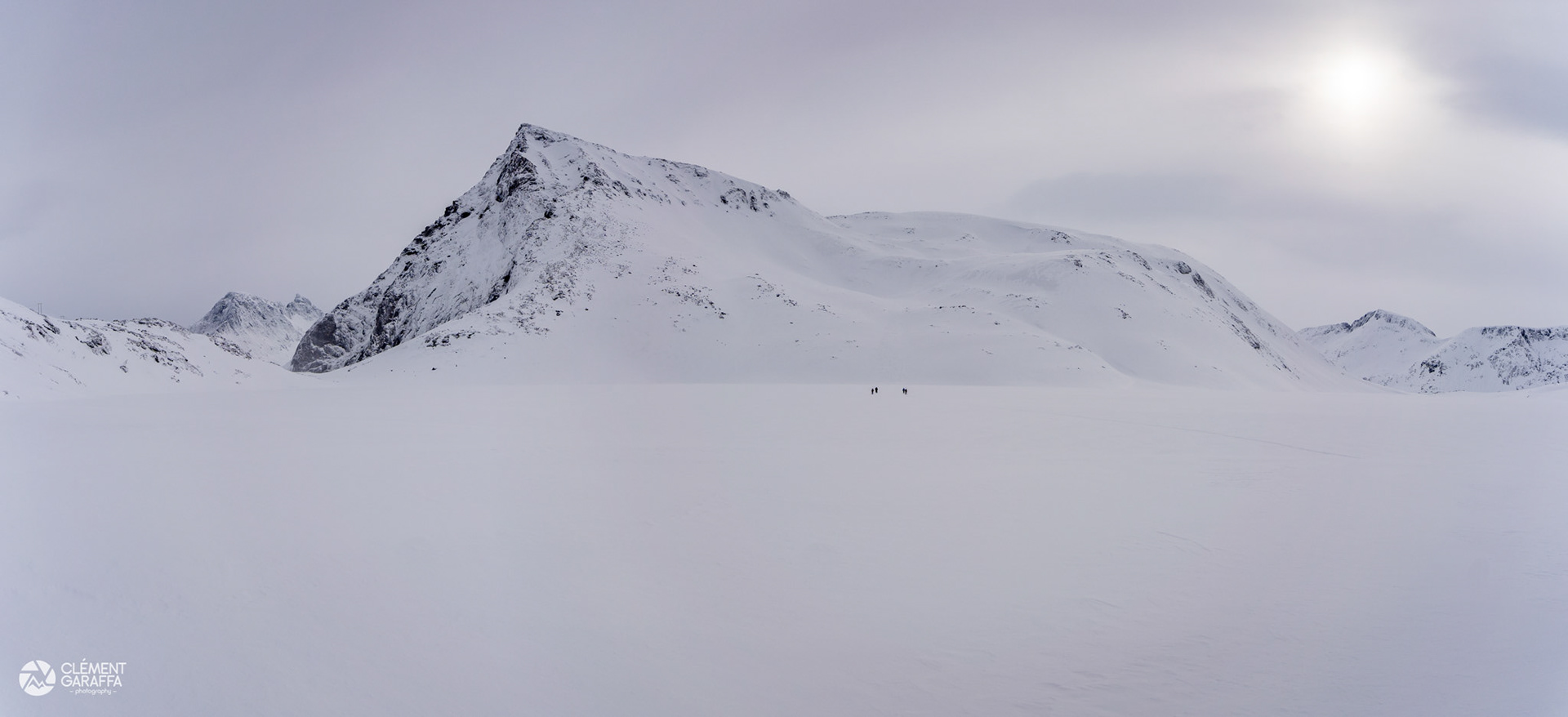 Le Segla, 639m, une des montagnes la plus parcourue, en tout cas en saison estivale avec sa forme d'aileron de requin, vu depuis le Hesten, au-dessus du village de Fjordgard, en Norvège, sur l'île de Senja. Bien que la face nord, visible sur la photo, est extrêmement raide et austère, le versant sud, à ski, ne dépasse pas les 35° sur 200m.
Segla, 639m, one of the most visited & iconic summit with its shark fin shape, seen from the Hesten, just above Fjordgard, Senja island, Norway. Although the north face, visible in the photo, is extremely austere and steep, the south side, on skis, does not exceed 35° over 200m.
Matin, montée au Hesten, tout juste au dessus de la maison à Fjordgard.
Puis, après déjeuner, départ sous la neige, très belle éclaircie au fur et à mesure de la montée, avec un soleil rasant et une vue incroyable !
Nivologie délicate dans une alternance d'une fine couche de neige sur fond très dur (couteaux indispensables) et grosses accumulations profondes avec une plaque friable sur le dessus. Fin en crampons jusqu'au sommet. Ski moyen dans la face, très bon ski dans les bouleaux, une constante en Norvège.
Hesten in the morning, just above our house in Fjordgard.
Then, after lunch, departure under snowfalls, very nice break in the eather as the climb progresses, with a low sun and an incredible view!
Delicate snow cover in an alternation of a thin layer of snow on a very hard bottom (crampons are compulsory) and large deep accumulations with a crumbly slab on top. End with crampons to the summit. Average skiing quality in the face, very good in the birches, a constant in Norway.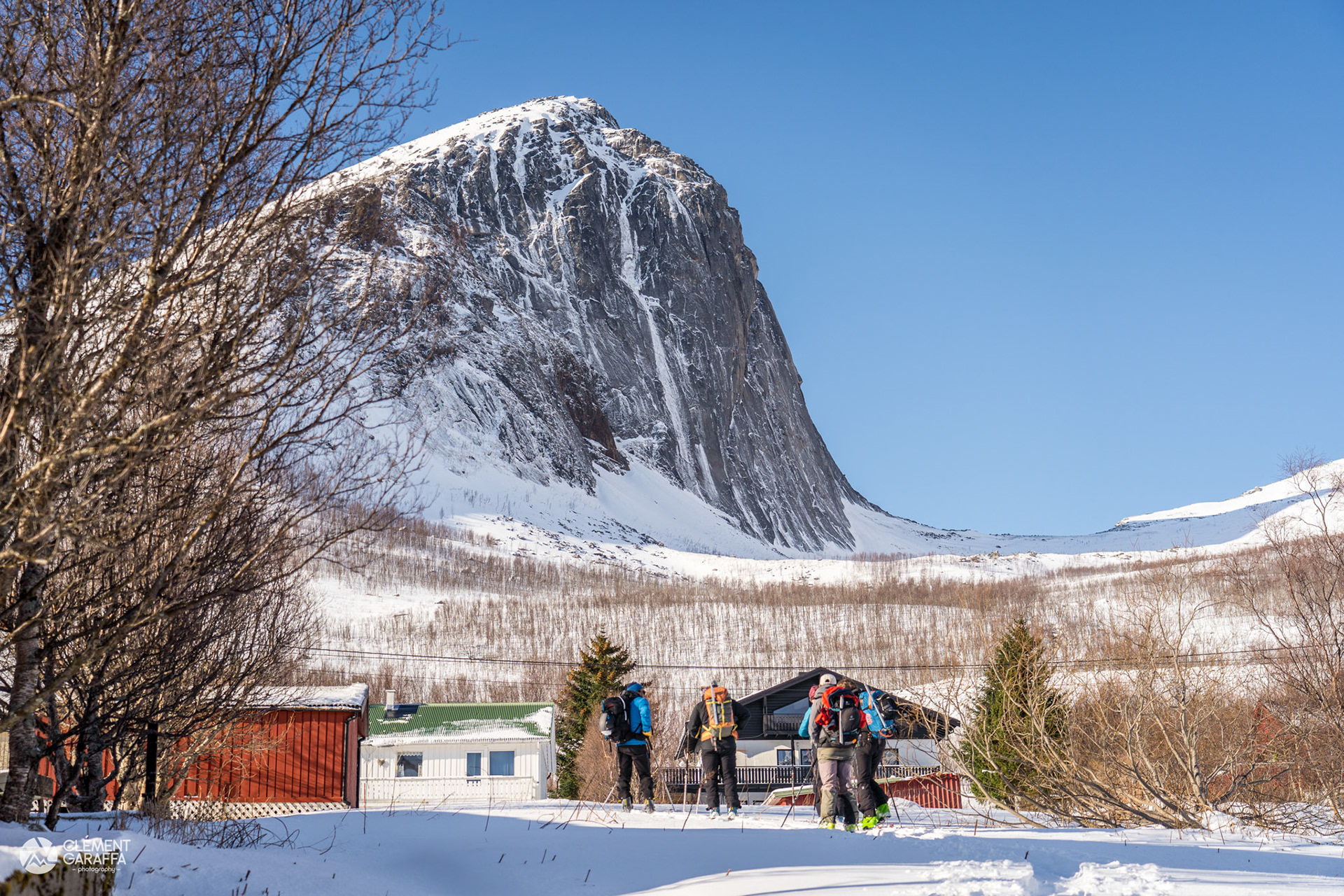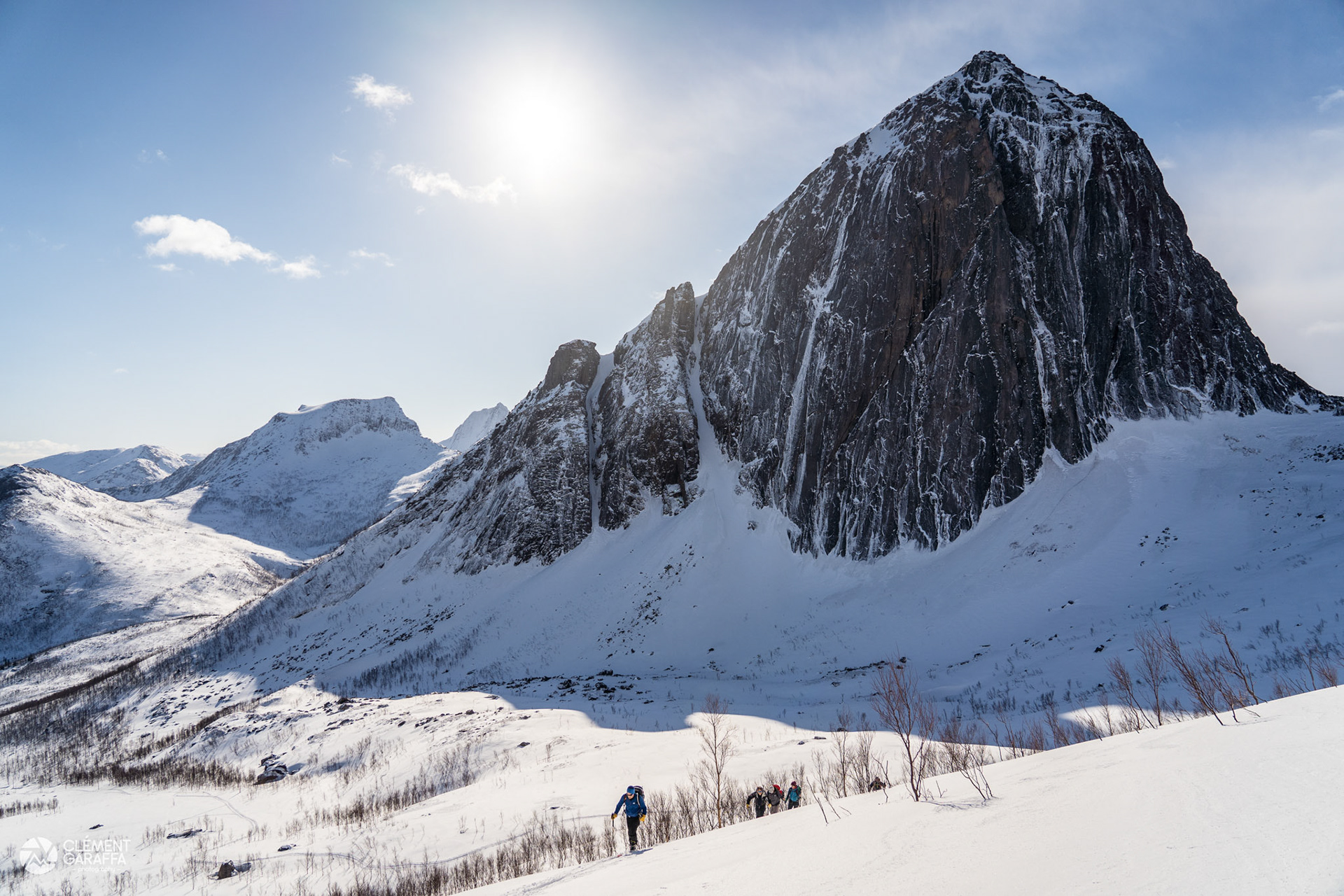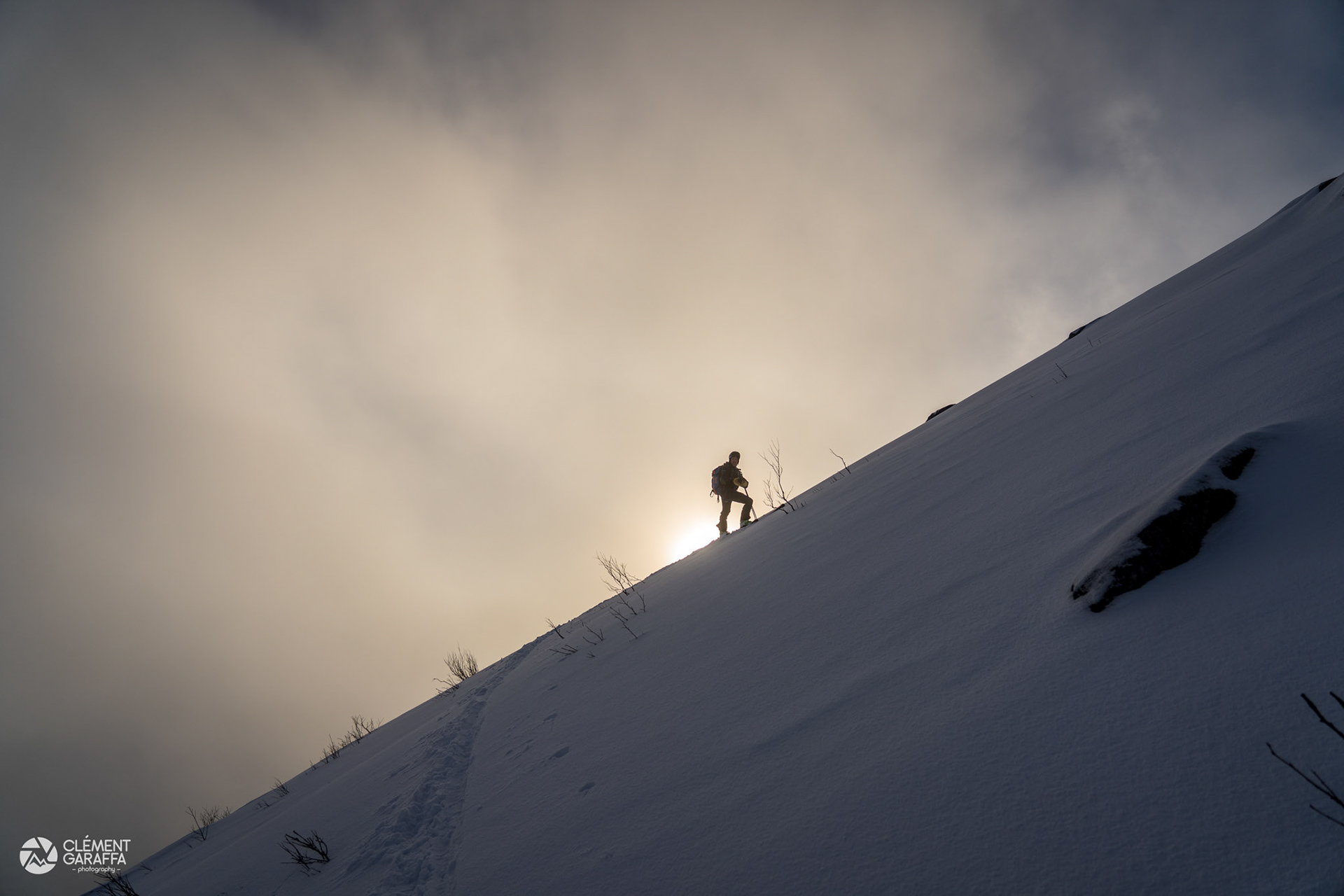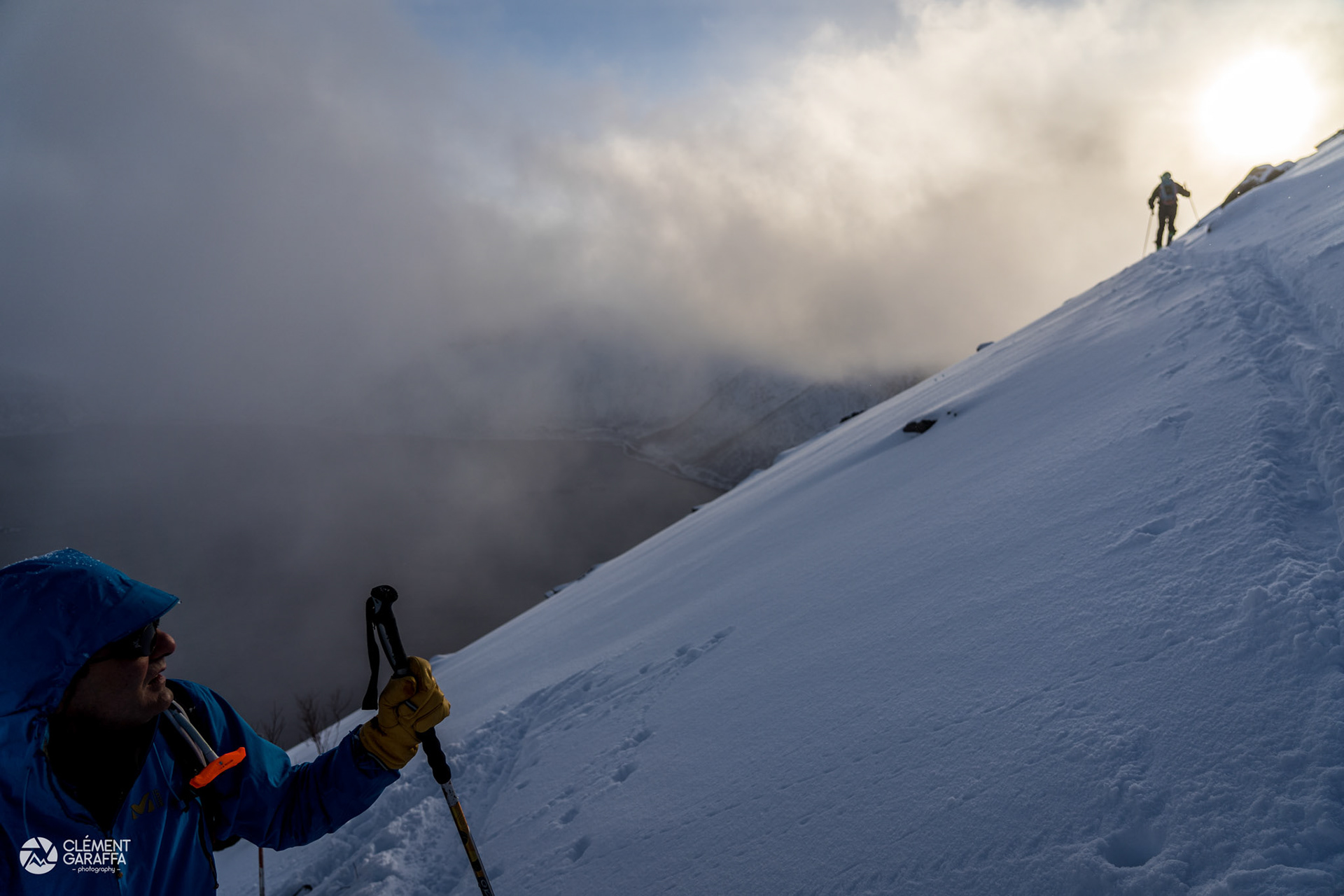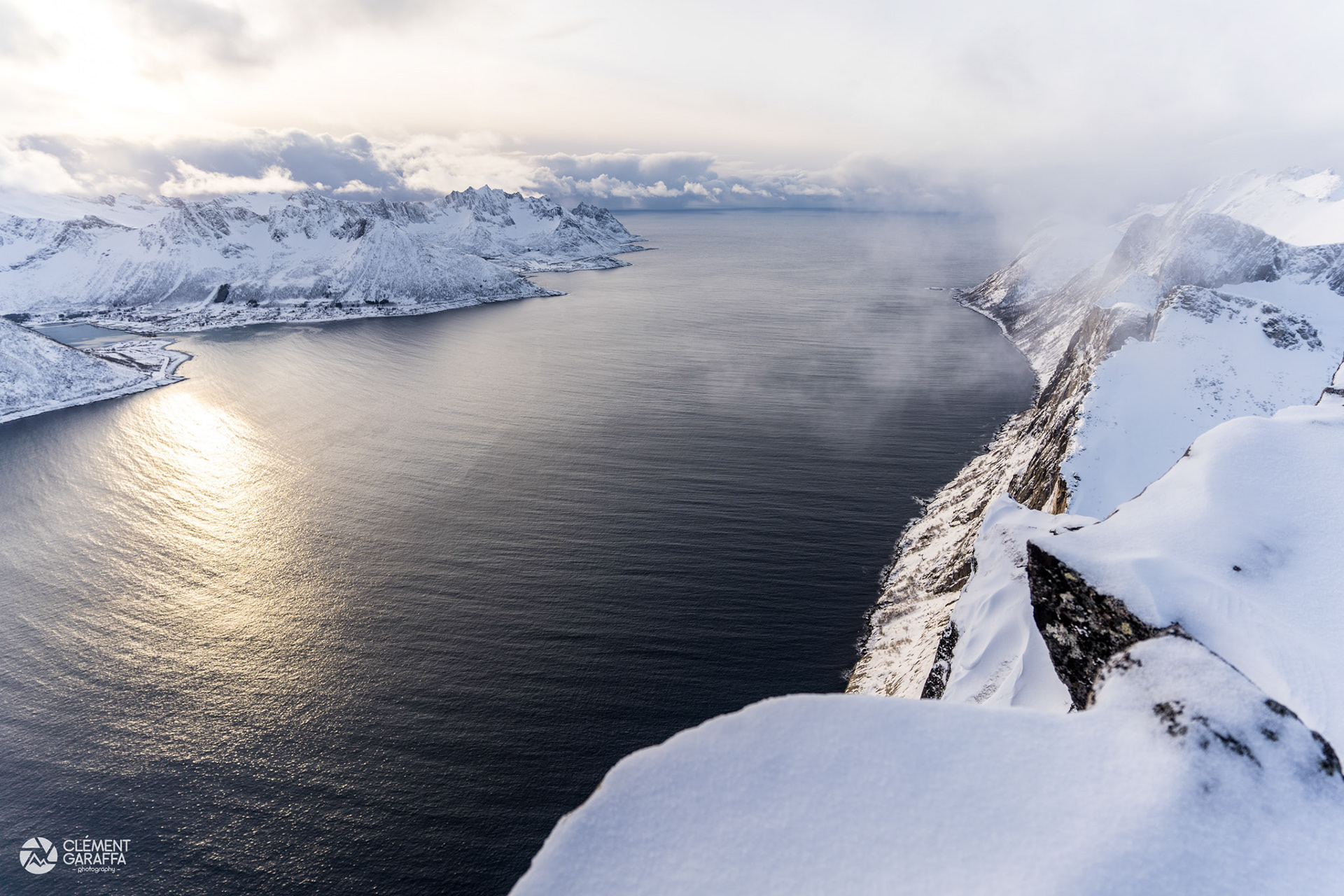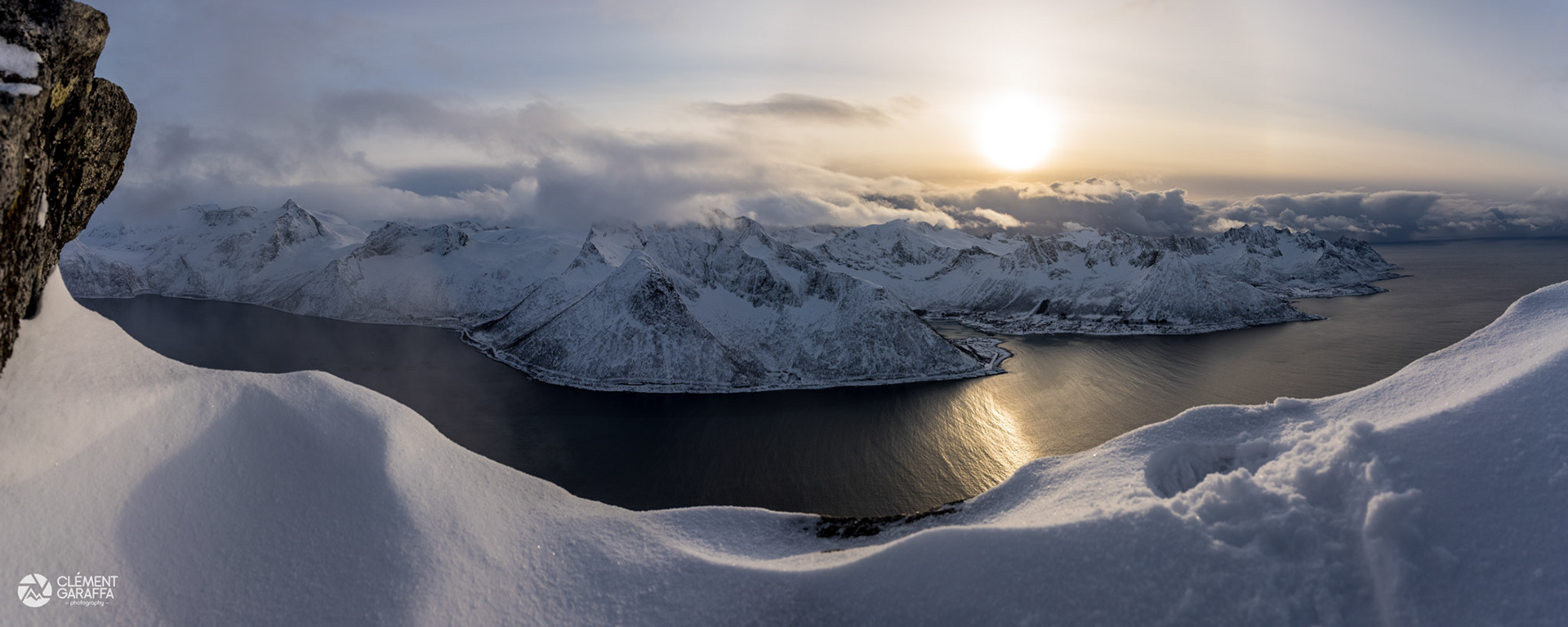 Conditions bien froides, -6°C, au départ, avec en sus du vent très fort et en rafale dès le vallon supérieur. Une première montée au col entre le Keipen et le Grytetippen, redescente full poudre jusqu'à la voiture, pause déjeuner, puis remontée vers la combe SE du Keipen. Descente à nouveau en excellente neige. Lumières toujours incroyables, et même parhélie (faux-soleil) !
Colder conditions, -6°C at the start, with a very strong and gusty wind in the upper valley. A first climb to the pass between Keipen and Grytetippen, full powder descent to the car, lunch break, then ascent to the south-east valley of Keipen. Descent again in an excellent pow. Always incredible lights, and a parhelion (aka sun dog / false sun) as a bonus!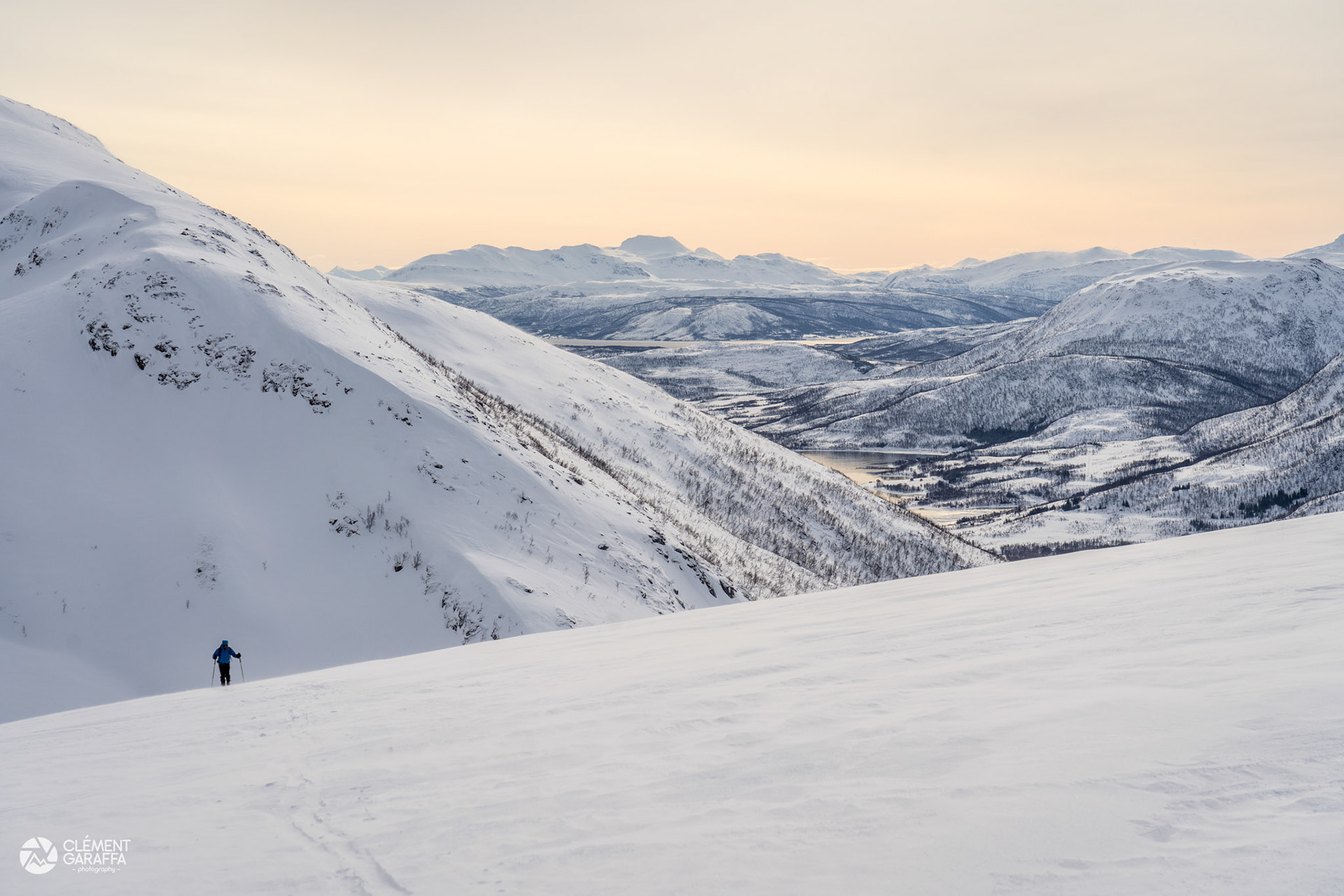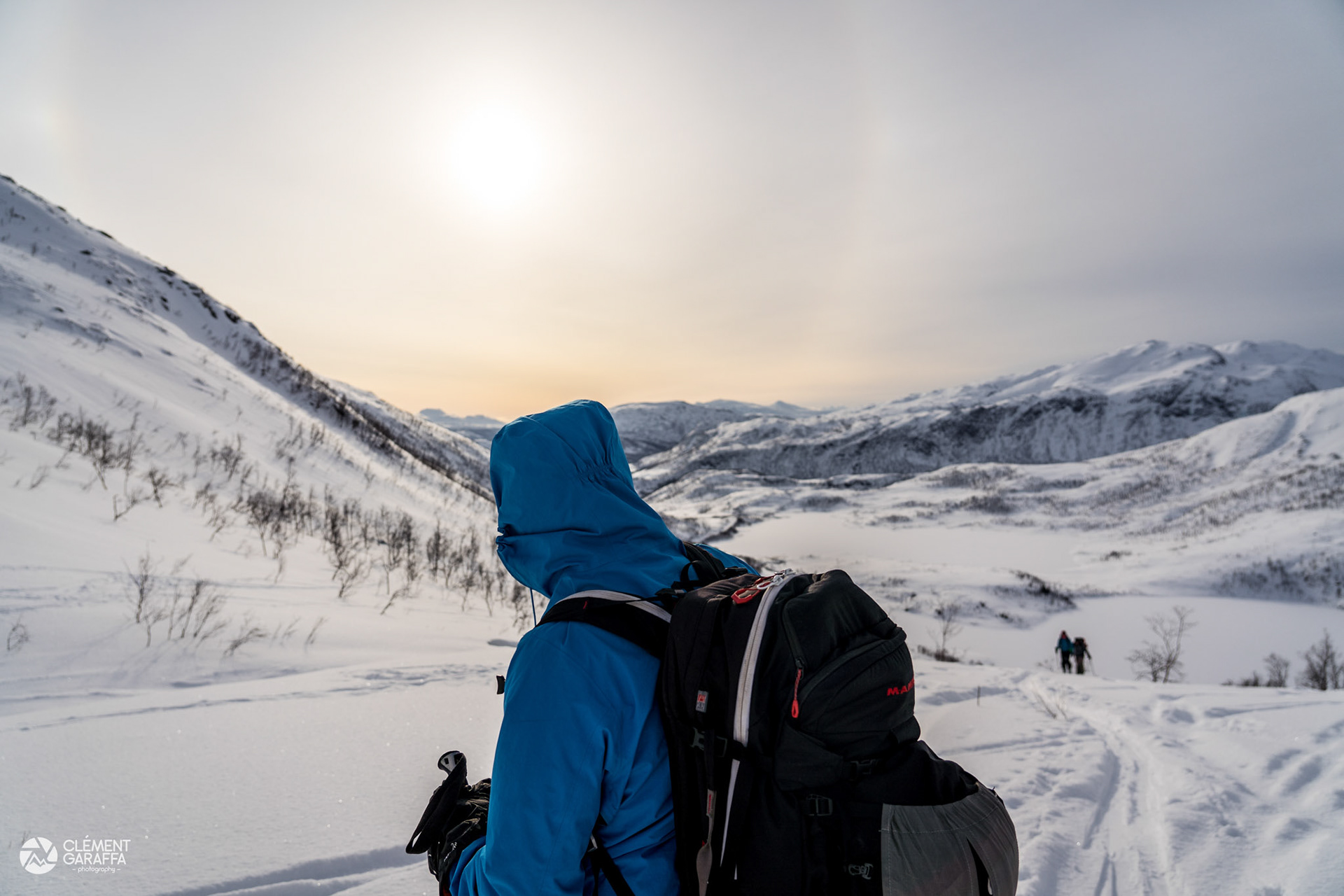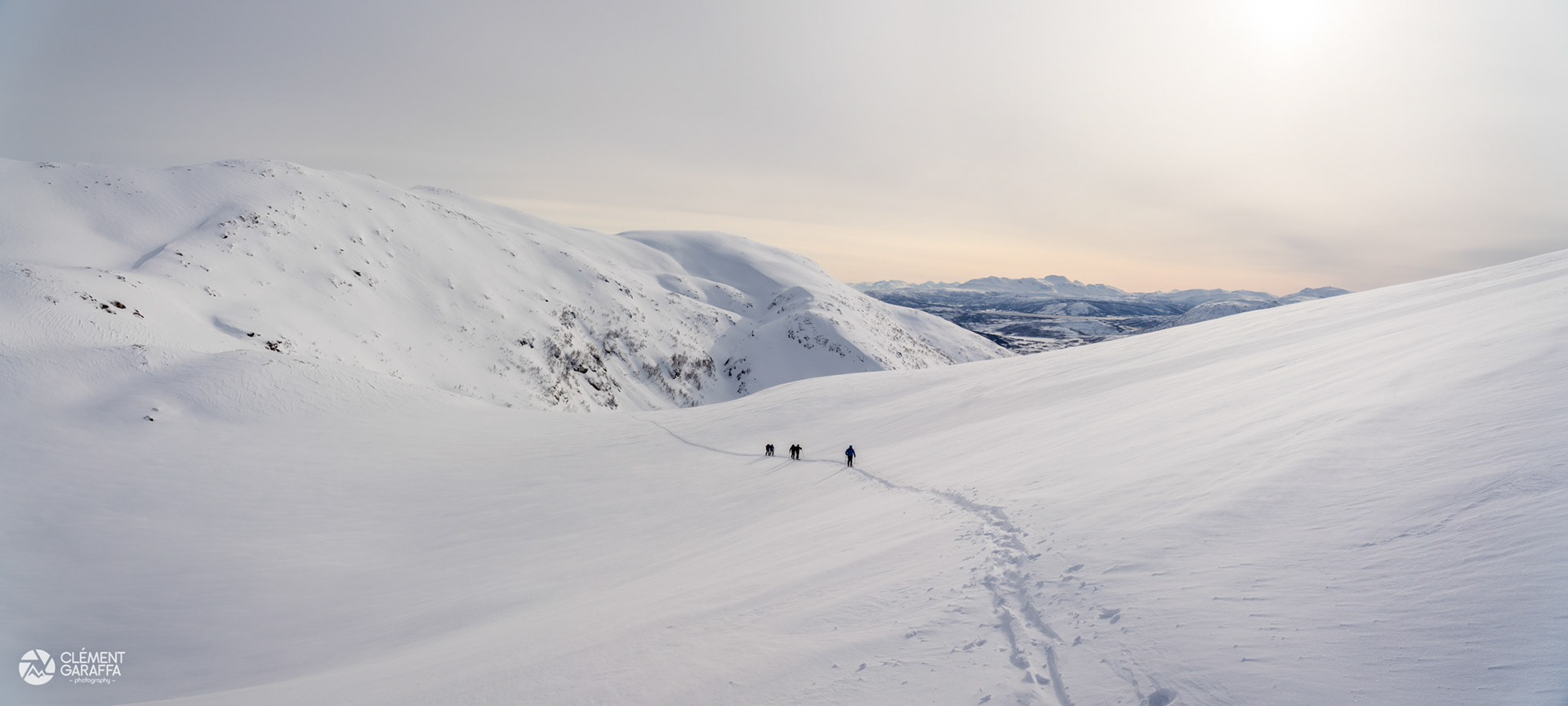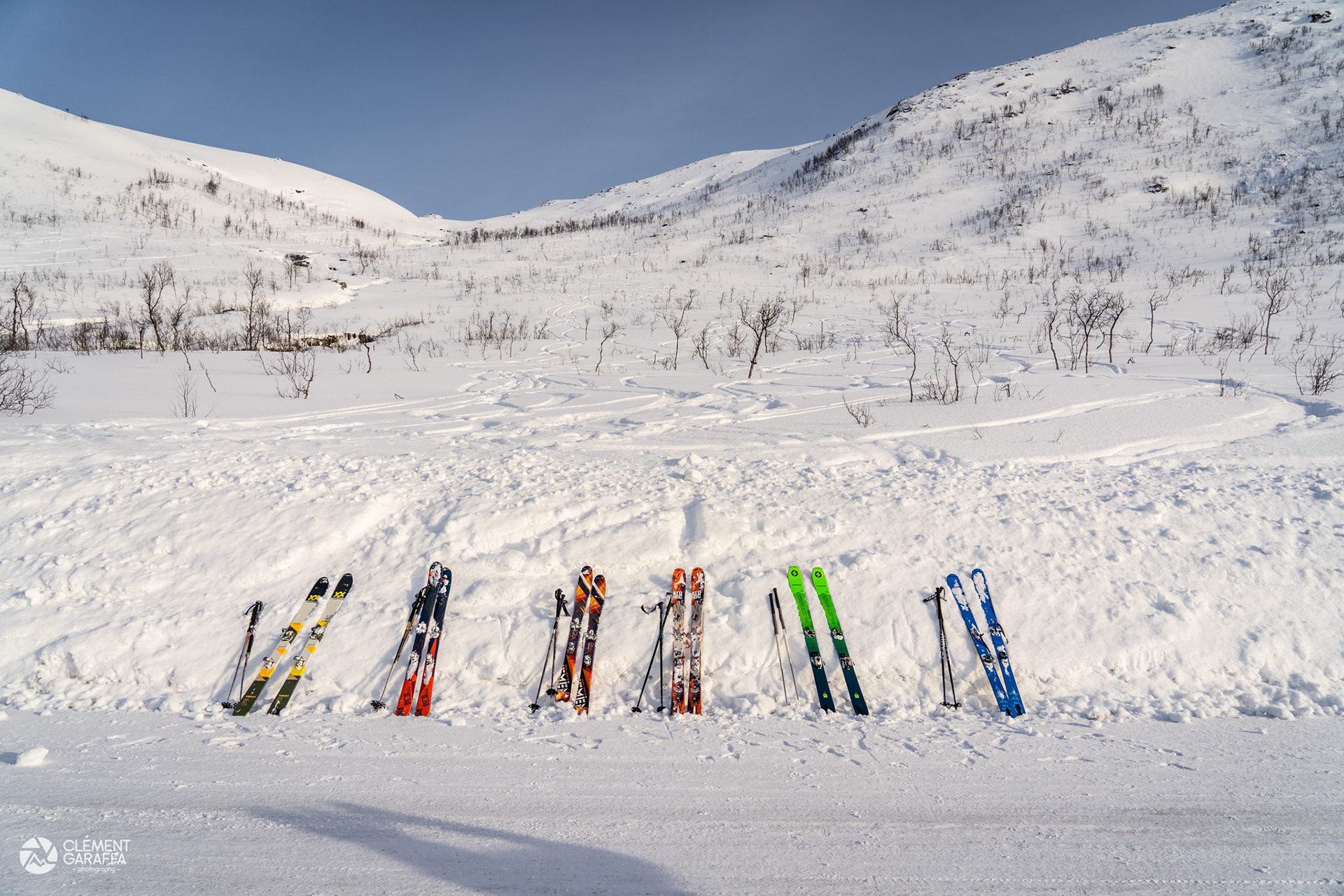 Aurora Borealis, Fjordgård
Store Hollendaren (1 017m)
Montée en louvoyant entre les cascades de glace et les barres, assez austère jusqu'au lac, puis beaucoup plus agréable, sur glacier, jusqu'au sommet du Store Hollendaren (1 017m), un magnifique classique de la partie nord de l'ile de Kvaloya. Descente avec Olivier par le couloir Nord, raide et glaciaire, avec un cheminement un peu astucieux heureusement repéré du bas avant le départ. En aller-retour pour le reste du groupe.
Ascent weaving between the ice falls and rock ledges, quite austere until the upper lake, then much more pleasant, on glacier, until the summit of Store Hollendaren (1,017m), a magnificent classic of the northern part of the island from Kvaloya. Descent with Olivier via the North corridor, steep and glacier, with a somewhat ingenious path fortunately spotted from the car before the outing. Round trip for the rest of the group.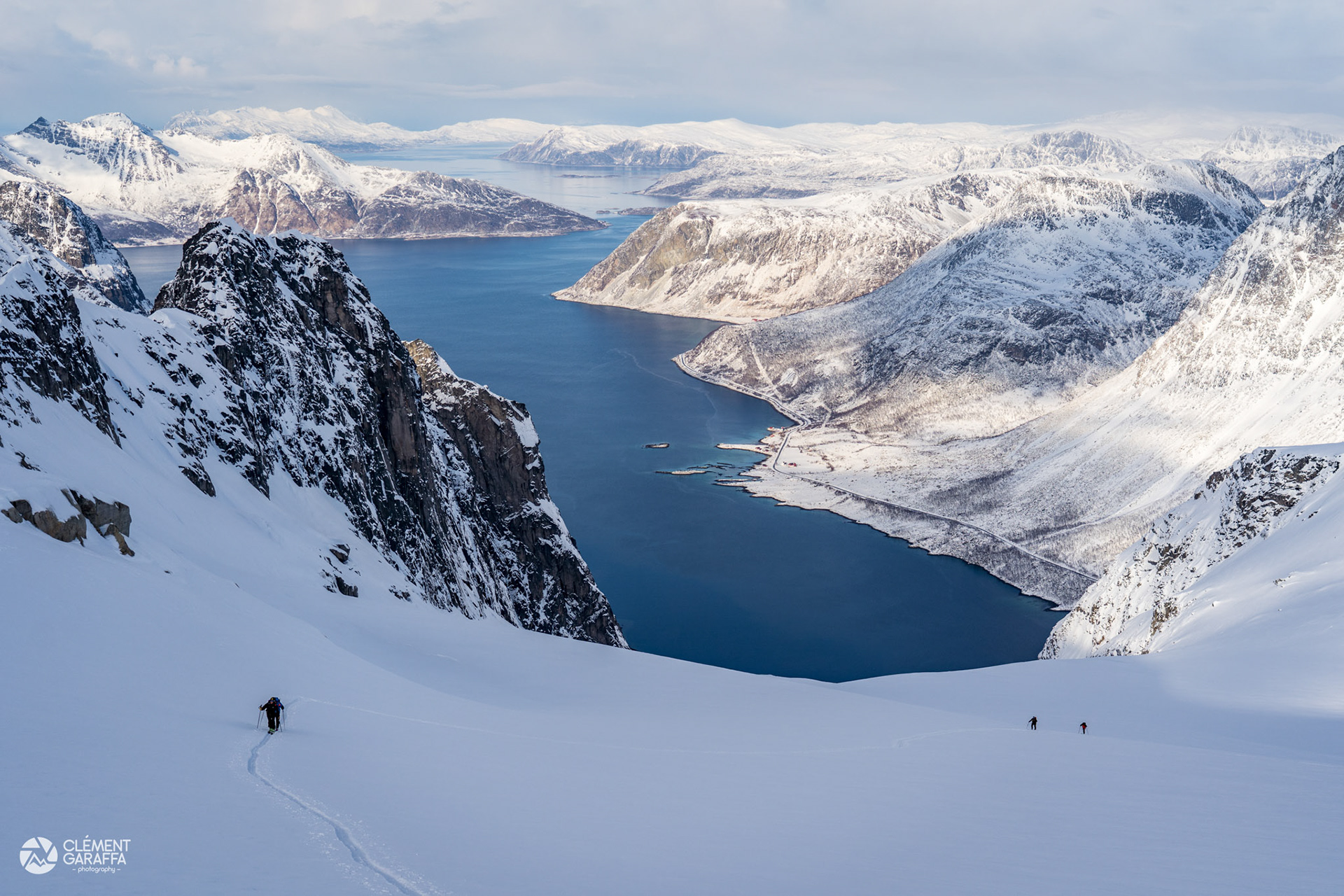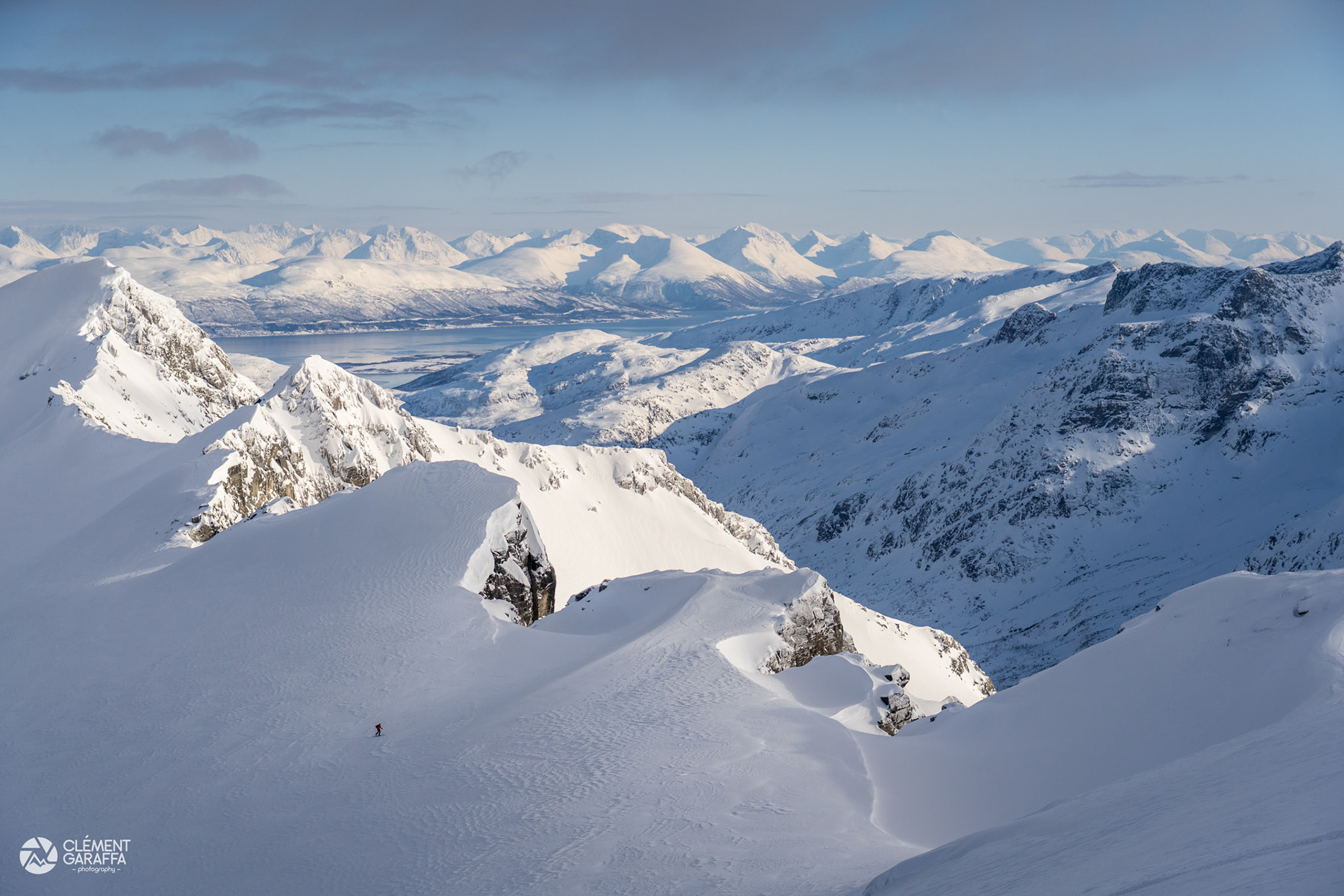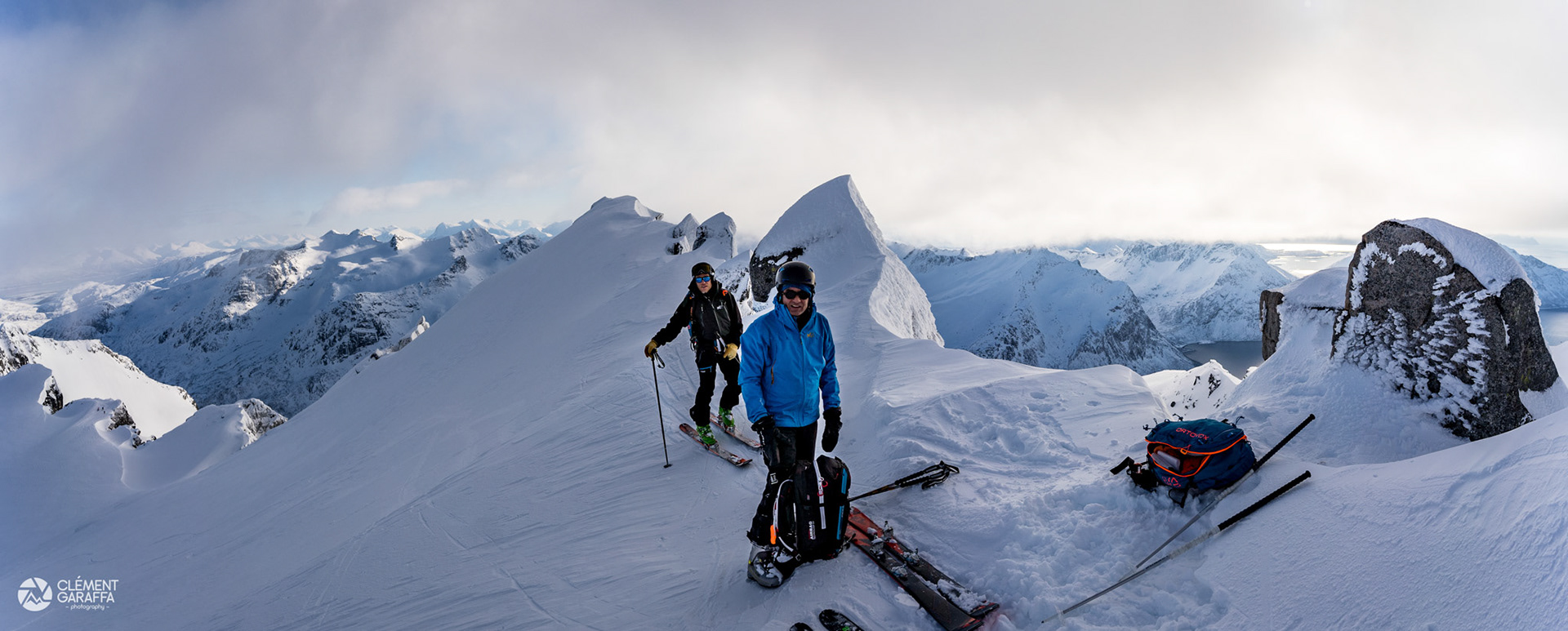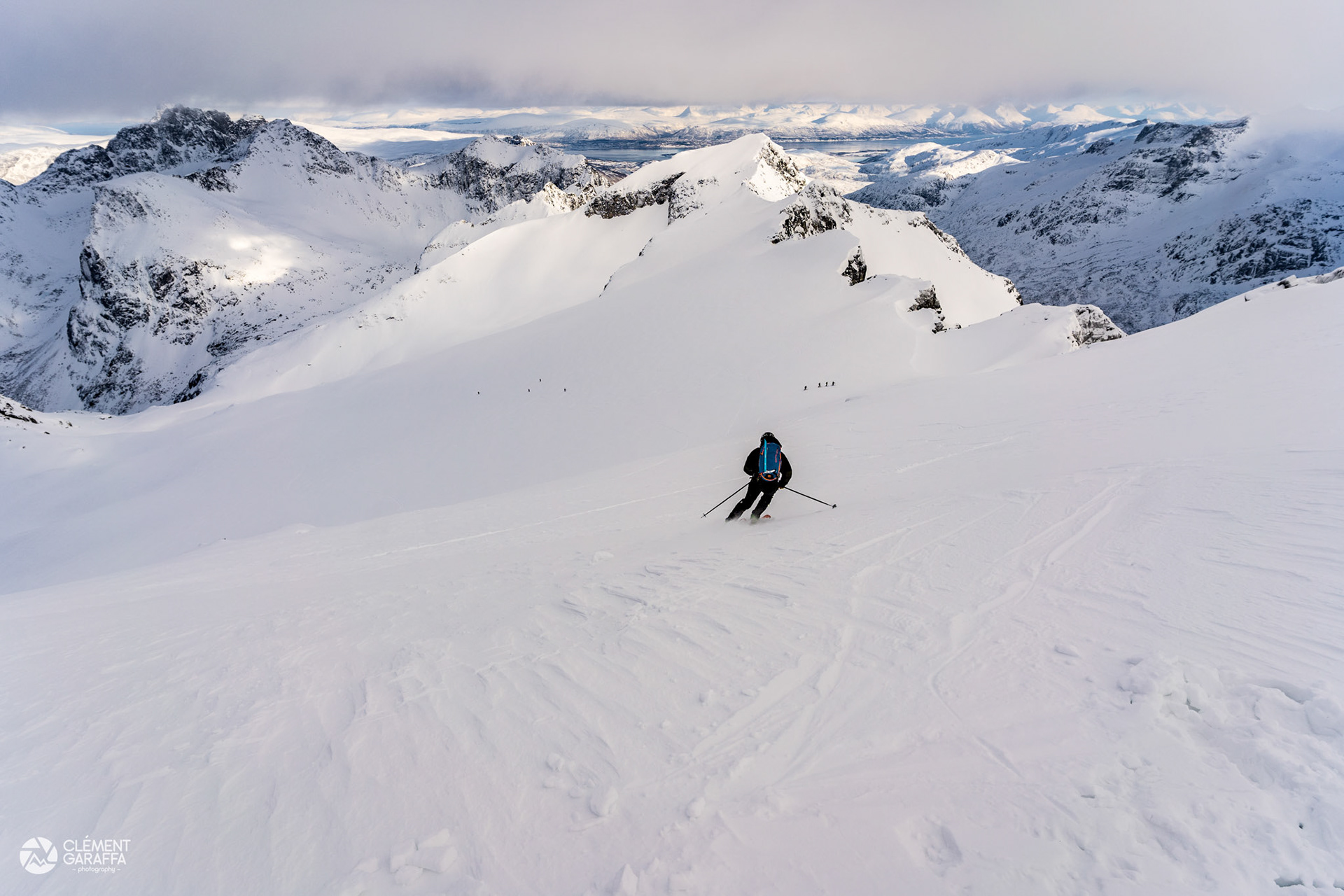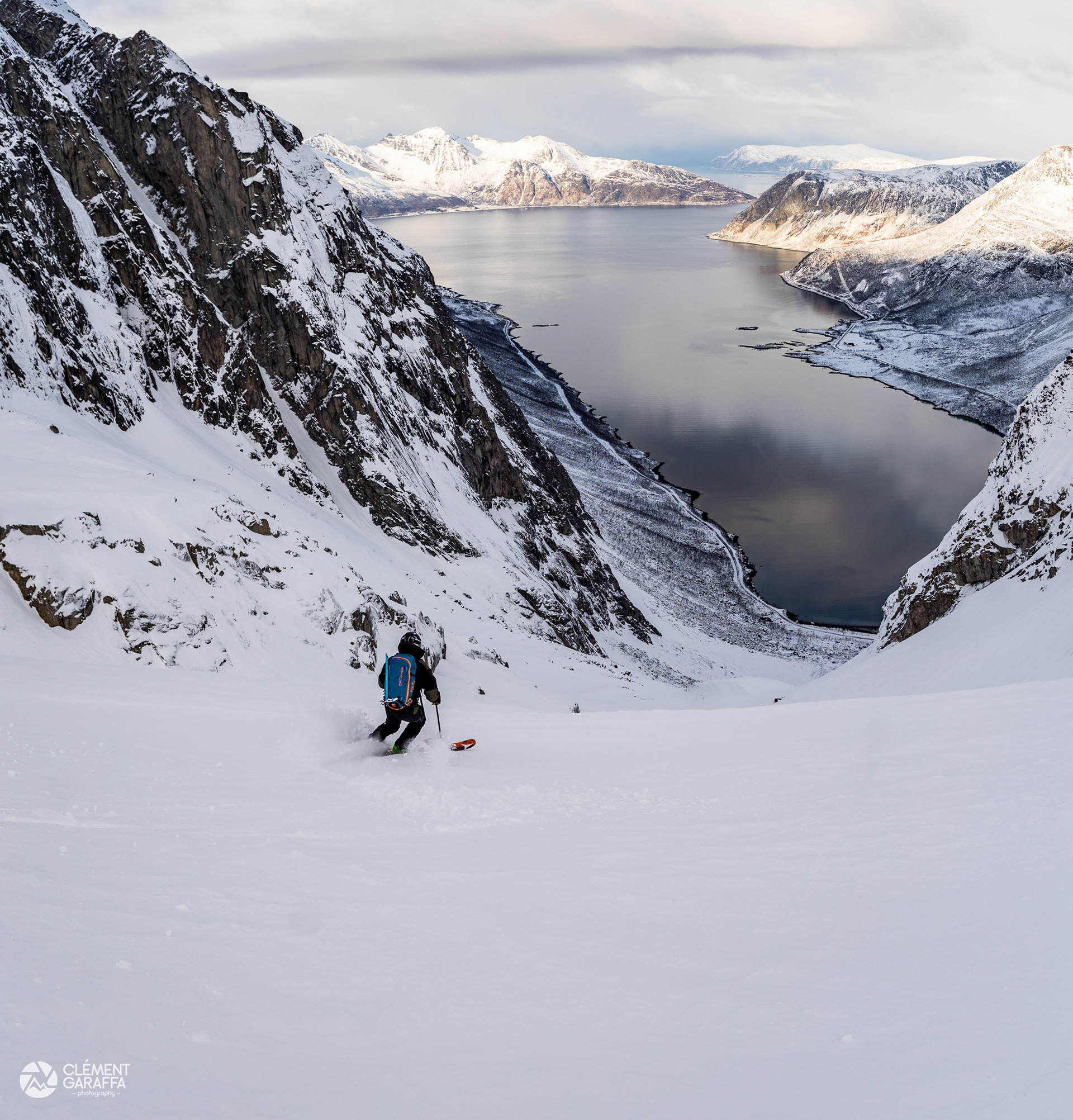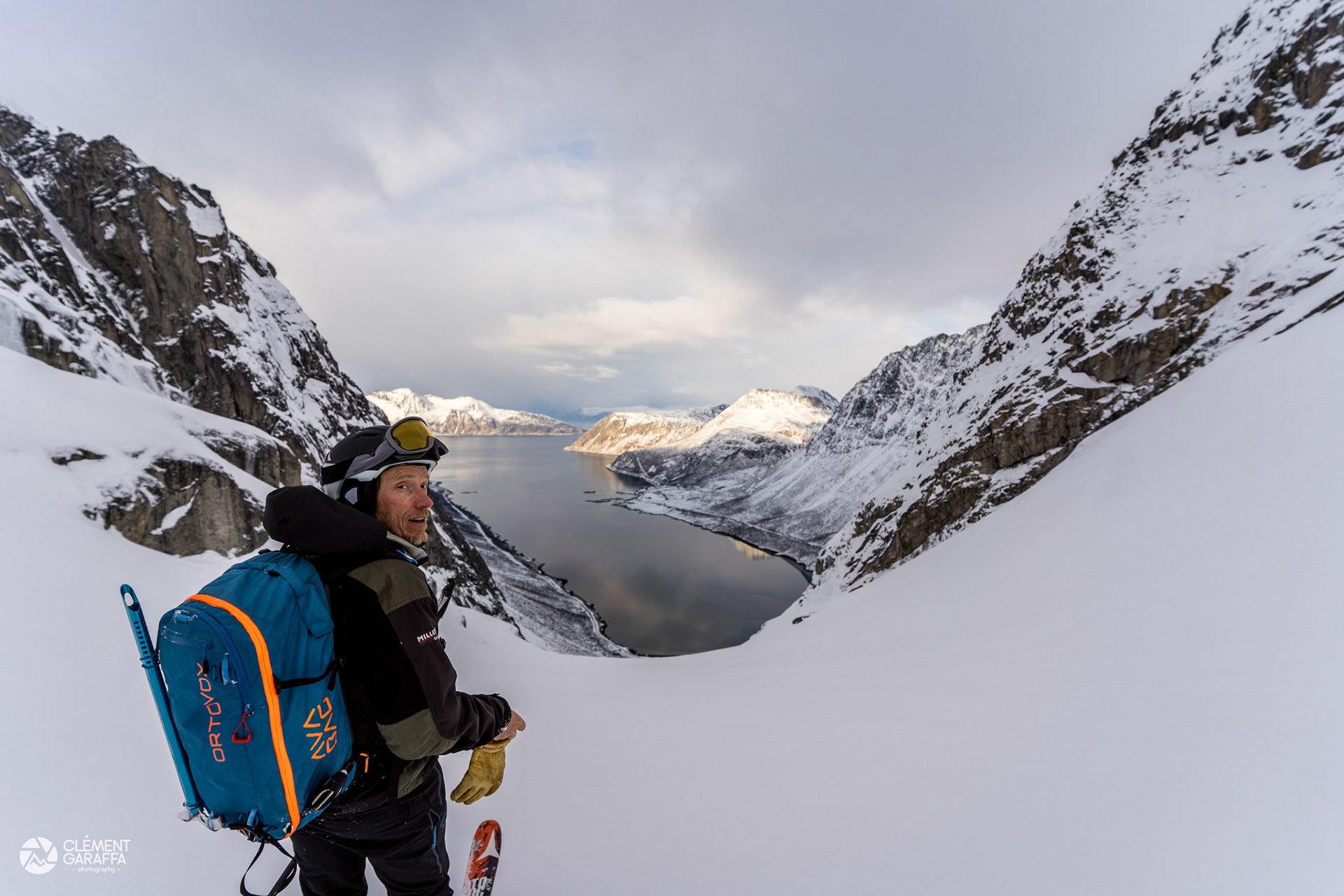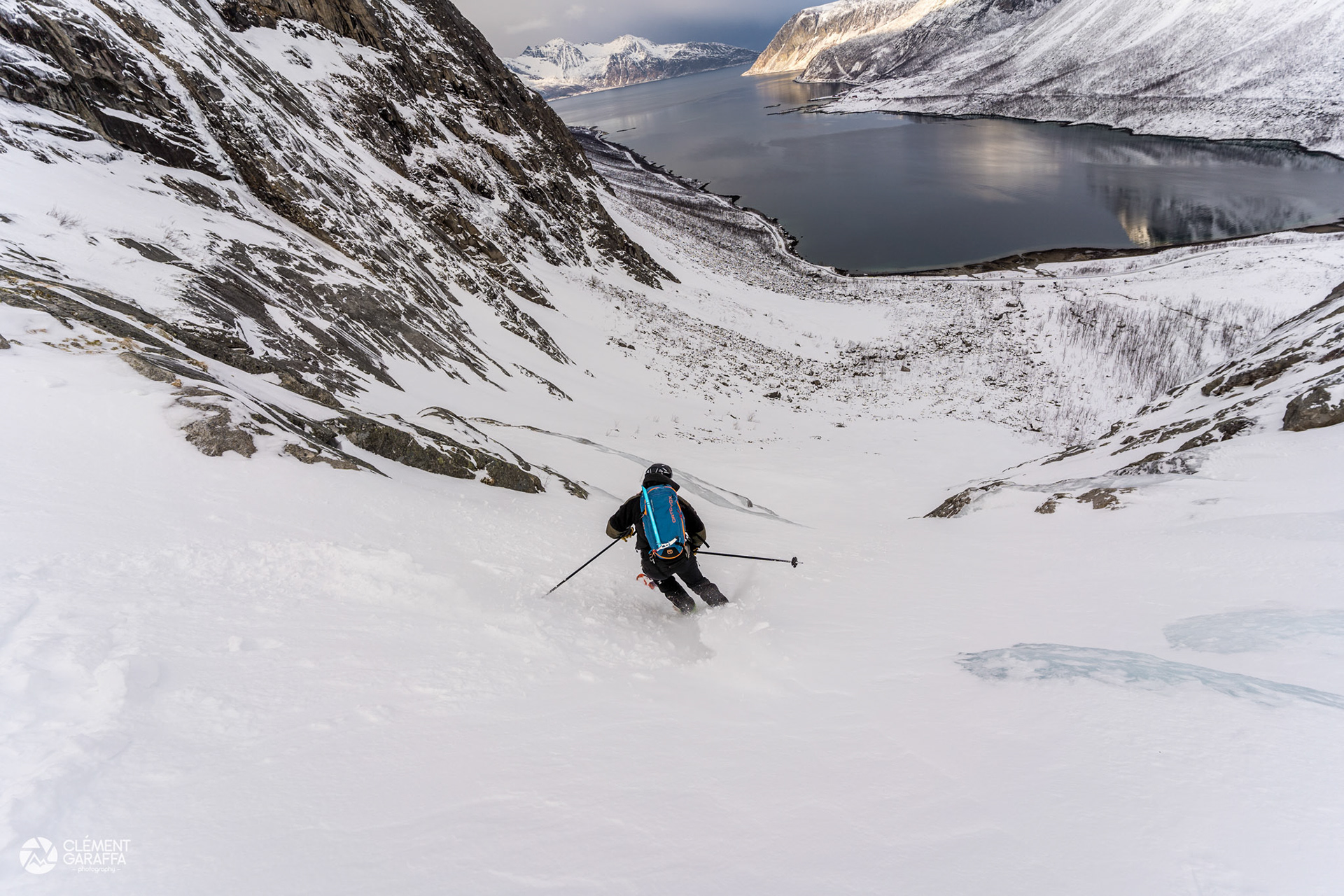 5 jours de ski, 7 sorties, 6600 m de D+, 59km. 
Logement à Fjordgård, voiture de location depuis Tromsø.
5 ski days, 7 outings, 6600 m of elevation gain, 59km. 
BnB @ Fjordgård, car rental from Tromsø.